By Andru McCracken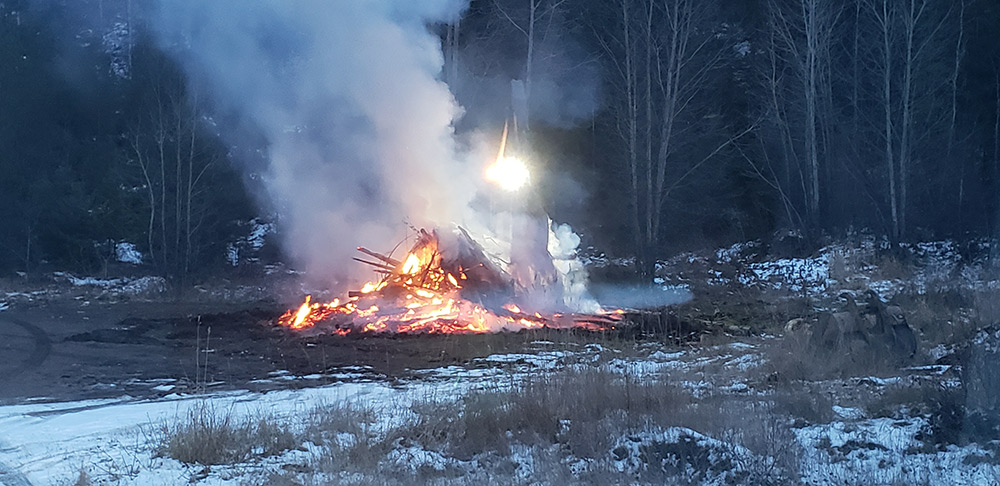 If you see a slash pile burning on the horizon and are wondering whether you'll be breathing that smoke in the night time, it's easy to check.
The province has an easy to use ventilation index map with simple colour coding that allows citizens and industry alike to determine whether or not smoke from smoldering slash piles will rise to the sky or haunt the valley like a wraith. Red means don't burn.
On November 16 a resident brought the indexes and smoke from fires to our attention.
Similarly when you see a fire like the one at the intersection between East and West Canoe Forest Service Roads on November 16 (pictured here), you can easily check online whether or not the ventilation index allows it at tinyurl.com/goatsmoke.
Provincial Meteorologist Gail Roth said that companies can also pay for a more accurate custom ventilation forecast for specific regions. The ventilation index provided by Environment Canada is often conservative and doesn't take into consideration the varied terrain of BC.
But Roth said both the federal index and custom indexes for the area said November 16 was a 'no burn' day.
Valemount Community Forest manager Craig Pryor said they were burning near town (not at the fork in Canoe Forest Service Road in the accompanying photo) on the basis of a custom venting forecast and sent said forecast to the Goat office. The index showed poor venting in the morning and fair in the afternoon.
On the following morning November 17, Pryor showed a photo of the ridge line where the fires had been the night before, no smoke from the piles was apparent.
"We are close to finishing the burning season. All major areas are done," said Pryor.
The Open Burning Smoke Control Regulation was introduced in September 2019 and sets out rules about when and where slash piles can be burnt and there are new stricter rules about burning close to communities.
Roth said if people are concerned about air quality because of open burning she encourages them to call the RAPP line (Report All Poachers and Polluters): 1-877-952-7277 (RAPP) or #7277 on the Telus Mobility network.
"That is exactly what the RAPP line is for because the officers can't be everywhere all the time," said Roth.