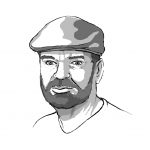 Andru McCracken, EDITOR
---
There is no doubt that the events of last week have altered lives in the valley. Aerial photos of homes and outbuildings covered in mud debris are heart wrenching. It's no small miracle that no one was seriously injured.
There have been calls for the community to react, specifically a friend of mine Robert Collins has been asking someone, anyone to set up an online fundraiser for those affected.
As a community this is a time to come together and help out those who have had their worlds turned on its head. At the same time it is still really early, if it takes a little bit of time to consider how this should be set up, that's okay too. In this case, I think responding wisely may be better than responding quickly. This is big.
There is still an evacuation order in effect.
I'm certain that some folks will defy the evacuation order to secure their property and limit subsequent damage.
Even though there are outstanding risks I can't help but empathize.
How can people walk away from a property they've put their entire beings into?
The consequences of the washout of Willox Creek could be huge, and it echoes, unwelcomely, concerns raised by the Land Hazard Study of 20 years ago.
I hope that the response to this washout is measured.
There are many many stories to tell. If you are experiencing hardship as a result of the many rain events I encourage you to get in touch with the newspaper, especially if it affects your ability to stay in your home.
An evacuation alert is still in place at the Dore, although the number of affected homes and properties has been reduced.
A story we've yet to tell is the impact of the many wells that were destroyed during the high water event on the Dore River. We know that some properties near Blue River have experienced the impact of high water too