Video: Andrea Arnold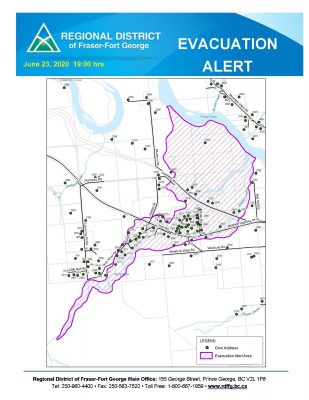 By Goat Staff
The Regional District of Fraser-Fort George has issued an evacuation alert for approximately 70 residences on parts of the Dore River area northwest of McBride, BC, as a result of flooding and high water in the area. RCMP were reportedly alerting residents about flooding potential earlier today.
Those in the alert area are asked to prepare in the event that an evacuation is required and take precautions to help prevent damage to their home, property and their personal safety including:
 move equipment and farm implements to higher ground;
 make arrangements for pets and livestock to be moved to safe locations;
 gather important papers in water-tight containers and move valuables to alternate locations; and
 prepare a 72-hour personal survival kit for you and your family.
The public is reminded to exercise extreme caution near rivers and streams. High water-flows can cause bank erosion and instability, and currents in the river can be volatile and unpredictable. Please avoid all streams and water bodies with rising levels.
If evacuation becomes necessary, the Regional District will designate a place for residents to go, said Renee McCloskey RDFFG Manager of External Relations.
"In the meantime we encourage those residents in that area to begin making plans for themselves and their family in the event an evacuation is ordered and they need to leave their home."
For more information on emergency preparedness visit the Regional District of Fraser-Fort George website at www.rdffg.bc.ca or call 1-800-667-1959