by Andru McCracken
---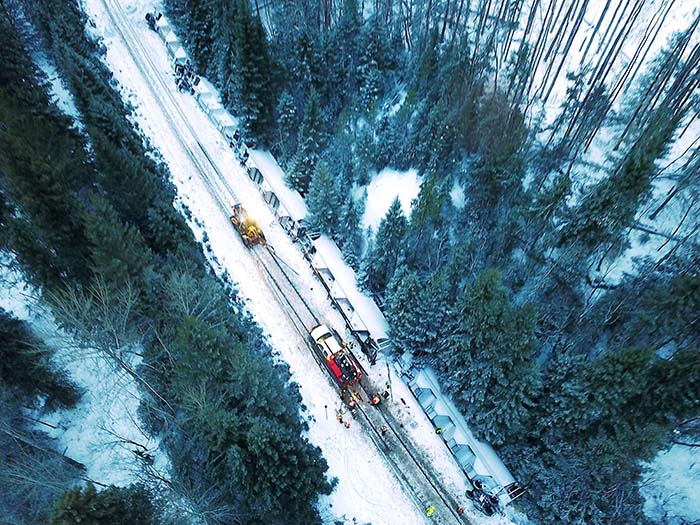 Last week, 23 grain cars derailed just east of McIntosh Bridge 12 km west of McBride. It's the fourth of five known derailments since the start of 2019. A single car carrying petroleum coke derailed at Moose Lake on Jan. 2nd, a fiery derailment was caught on video north of Saskatoon Jan. 22, 19 cars derailed near Marlboro close to Edson on Jan. 27. Then came the McBride derailment Jan. 30. That was followed by a deadly derailment near Field, BC, on Monday where three railroad workers were killed after their train plunged off a bridge. The companies involved include both CP rail and CN.
CN spokesperson Jonathan Abecassis said there were no injuries or danger to the public with the McBride derailment and the train was not carrying any dangerous goods.
"The incident is under investigation," said Abecassis. "CN learns from every incident and the results of this investigation will be carefully examined."
Harold Edwards lives close to the site of the derailment. Though the derailment didn't wreak havoc on his property or cause harm, Edwards said it is a cause for concern.
"I have lived here for 48 years; one of the things I worry about is a derailment with a chlorine car," he said.
Chlorine is heavier than air, so a chlorine gas cloud would hug the ground and, if there was a derailment in the region, would likely surround his farm.
"It would kill all the wildlife and people. CN would like you to think that because their car went off the rails [and didn't cause harm] that it is trivial. I want to see a higher level of commitment to track maintenance," said Edwards. "Trains don't just fall off the rails, they fall off because there is something wrong with the way the tracks are laid out."
If Edward's vision of a toxic cloud of chlorine gas seems far-fetched, it's one of the first concerns mentioned by rail safety expert Fred Millar, based in Arlington, Virginia.
For Millar, any derailment is a terrible development and when mixed-freight trains derail they can set off a toxic and explosive chain reaction.
"In the first place, the railroads lose money when this happens. They have to pay millions and millions to repair tracks that have been torn up and pay for product that has been lost when they derail any kind of car," he said.
"Grain cars are often shipped in common carriage on mixed freight trains. It means that you often have toxic chemicals and other things that are really very dangerous."
"Any kind of a derailment should be a wake up call that there is not enough money being spend on track repair and training and not enough caution being exercised in sensitive areas."
"Every mixed-freight train is a potential disaster; that is one reason people have tried to reroute them around major cities and the most sensitive environmental areas."
Millar said recent high profile disasters have been putting rail safety back into the public spotlight recently including Lac Megantic.
"We still send these cargos through our major cities, through mountains, over bridges," said Millar, "You guys now have extra concern because of [increasing] crude oil shipments. That is just your dang hard luck."
Millar said that residents near the tracks have risks imposed on them they can't understand.
"And the industry does backflips to keep them in the dark," he said.
The Goat asked CN regarding transportation of chlorine but did not hear back by presstime.
Several chlorine spills due to derailments have occurred over the years, including a deadly South Carolina spill in 2005 caused by an improperly aligned switch which claimed nine lives.
The McBride derailment was about 1 km past the site of a fatal 2003 accident where a wooden trestle bridge collapsed in 2003 killing two men, conductor Ken Lequesne and engineer Art McKay (CN was fined $75,000 for the incident for inadequate record keeping regarding the state of the bridge).