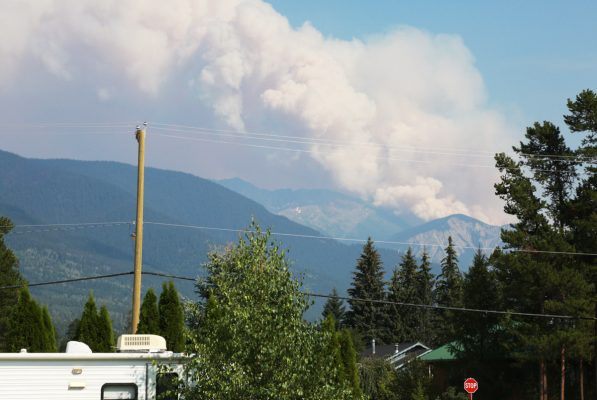 By Laura Keil
The BC Wildfire Service has called in an airtanker to help fight a 165ha wildfire in the Dave Henry drainage south of Valemount that is creating a huge plume of smoke this afternoon.
Wildfire Service Information Officer Forrest Tower said the fire isn't new, but it's burning uphill and gobbling new fuel on the hillside.
It was discovered July 31st and the suspected cause is lightning.
(including the Robson Valley) began today at noon. No open fires are permitted including campfires.
This prohibition applies to all public and private land within the Prince George Fire Centre's jurisdiction. It includes the use of tiki torches, fireworks, firecrackers, sky lanterns, burning barrels or the use of binary exploding targets (e.g. for rifle target practice).
The prohibition does not apply to CSA-rated or ULC-rated cooking stoves that use gas, propane or briquettes, or to a portable campfire apparatus that uses briquettes, liquid or gaseous fuel, so long as the height of the flame is less than 15 centimetres.
Air quality is still poor in the valley, due to smoke from both local fires and those burning elsewhere in the Province and in Washington state. See air quality data here.
The Goat will update this story as the Fire Service provides new information.