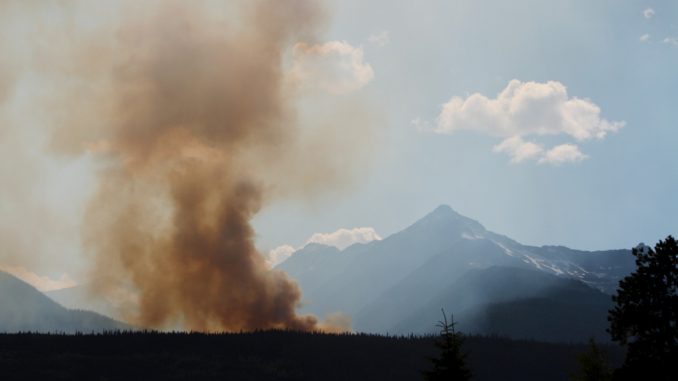 READ THE JULY 19TH UPDATE HERE
By Laura Keil
Two fires that started during a lightning storm last night west of Valemount grew in size overnight, and wildfire crews are responding both on land and by air.
Despite suppression efforts, the larger fire ballooned from 3 hectares this morning to 40ha during the hot, windy afternoon. The smaller fire has grown to roughly .15ha, according to the BC Wildfire Service.
Plumes of smoke are visible from town, and planes have been seen above the fires starting this morning.
Prince George Fire Centre spokesperson Forrest Towers said they are bringing in more resources to fight the larger fire, which is now considered a Fire of Note, and has been named the West Cranberry Creek fire.
"We have 10 firefighters and heavy equipment on this fire with 10 more incoming tomorrow morning," Communications Officer Forrest Tower said in an email. "Air tankers are being used to lay retardant down to inhibit growth. The fire has not increased significantly in size, but is putting off quite a bit of smoke in the daytime heat so it is highly visible from Valemount."
The smaller fire has 5 people fighting the fire and Towers says the fire should be contained in the near future.
Reynolds told the Goat this morning that airtankers were currently on scene and working on boxing in the larger fire with retardant. She says crews were standing by to respond after the air tanker objectives are complete. Reynolds says two ground crews were en route to the smaller fire this morning.
Story continues below
Airtankers and a lightweight reconnaissance plane were seen today July 18th above the two wildfires west of Valemount. Hover over each photo to see the caption. / LAURA KEIL
Several consecutive days of 30+ degree heat and little rain has led to a Moderate or High fire danger warning in the Prince George Fire Centre. According to the Wildfire Service, Moderate danger means forest fuels are drying and there is an increased risk of surface fires starting and residents are advised to carry out any forest activities with caution. A High rating means Forest fuels are very dry and the fire risk is serious. "New fires may start easily, burn vigorously, and challenge fire suppression efforts. Extreme caution must be used in any forest activities. Open burning and industrial activities may be restricted."
There are not currently any in the Prince George Fire Centre. Campfires, open fires and forest use fires are all permitted.
The Prince George Fire Centre stretches from the Prince George area north to the Yukon border and across to the Alberta border and south as far as Blue River.