by Andru McCracken
---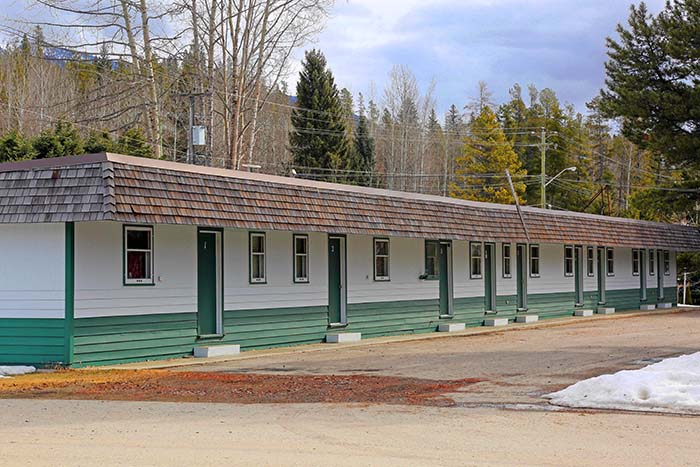 A rezoning application to support a post-secondary educational institution raised concerns for some residents at the last council meeting.
The application was jointly submitted by the Valemount Affordable Rentals Society and the Valemount Learning Centre. It sought rezoning on three properties that would be rezoned for different uses to complement college use on the site of the former Ramakada Hotel. One of the uses would be to make way for affordable housing in the future.
According to the staff report: "accommodations are meant for students and teachers, as well as to provide affordable rental options within the community of Valemount."
The public hearing began with a presentation by planner Megan Vincente who outlined the three properties' current and future zoning.
Adjacent homeowner Donavon Gee was concerned the college residences would be used as social housing, and that his property would be affected negatively.
"If there are crazies there, who is going to manage that?" asked Gee towards the end of the hearing.
Adjacent business owner, Peter Felmark, who owns the Valemount Hotel also expressed concerns about other uses for the housing. "I am not in favour of low income rental. I am in favour of students living there," said Felmark.
Resident Ray Mikolash who lives further away, on 7th Avenue, said he was concerned that the college was putting the cart before the horse and should start delivering programs before considering housing. Later he added he was against the rezoning for reasons he wouldn't say.
During council deliberations after the public comment period Blanchette cleared up the terminology.
"I know that RVSS (the Robson Valley Support Society) is working on social housing; affordable housing is something different, something the kids from Tim Hortons could afford," she said.
Councillor Peter Reimer weighed in.
"I'd be in favour of a very well-run housing complex, but I think that needs to be clarified," said Reimer.
Mayor Jeannette Townsend asked the proponent to set the concerned residents' minds at ease.
"They would have to be satisfied that it will be properly guaranteed that it won't be a slum," said Townsend.
"We need to clarify and address the concerns of those who live next door and have them assured it's not going to affect their lifestyle or properties. Council is prepared then to have clarification that the answers to the property owners who are next door [and] they be given a guarantee of the plans that their properties will not be negatively impacted."
President of the Valemount Affordable Rental Society Riette Kenkel said the college will need residences before long.
"We're very close to getting some of the curriculum approved, then we can start offering courses, but once that is done it will be at least six months of marketing before we can anticipate students. As part of that marketing we want to let them know we have beautiful housing for them as well."
Kenkel said that work won't begin on renovations until the properties are zoned appropriately.
"Before we are willing to spend a penny on renovations we need to know that we have the right zoning to do it," said Kenkel. "We can't even advertise our [College] programs unless we have somewhere for people to stay."
She said that they are also looking for the flexibility to fill them with short term rentals while school is not in session (though they would not be used as vacation rentals).
Council will revisit the fourth and final reading at the next council meeting scheduled for June 26.