by Goat Staff
---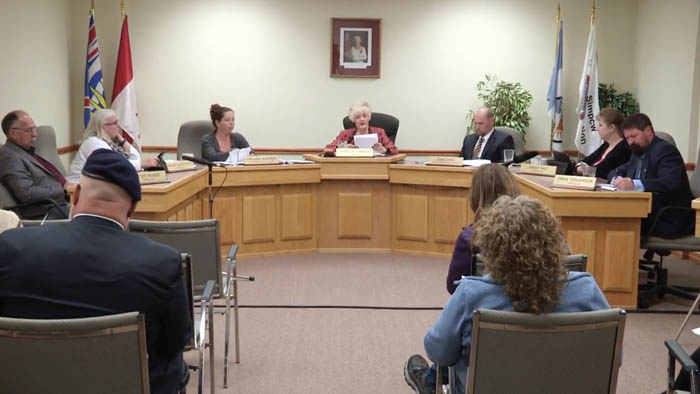 Mayor Jeannette Townsend, councillors Hollie Blanchette, Peter Reimer, Sandy Salt and Owen Torgerson, met on June 12, 2018. Interim Chief Administrative Officer Gord Simmons, Corporate Services Clerk Carleena Shepherd and Planner-1 Megan Vicente were the staff present.
Public Hearing for Rezoning Proposed College Campus and Affordable Housing Lots
Council held a public hearing for Zoning Bylaw No. 779, 2018 to support a post-secondary educational institution (to be constructed at a later date), as well as related offices and accommodations. The application was jointly submitted by the Valemount Affordable Rentals Society (VARS) and Valemount Learning Centre (VLC). Vicente provided a background to council. The lot with the motel will accommodate additional rental units to be constructed in the future. VARS board members Riette Kenkel and Korie Marshall provided additional information that the rentals would be for students or a 3-month term. The empty lot would be an apartment building with a mix of single, 2 and 3-bedroom units.
Neighbour Donovan Gee and resident Ray Mikolash had concerns that low income housing would impact the neighbourhood in terms of the type of people who would live there. Kenkel said VARS is working with BC Housing to develop guidelines and this is not intended to be low income housing. "It is not going to become a slum," she said. Student housing needs to be available to attract students to college programs. Neighbour Felmark said he would be concerned about low income housing and didn't understand why there were different zoning designation for the three lots. Mayor and councillors felt that the residents' concerns need to be addressed. Blanchette thought a meeting of VARS and neighbours could help. The zoning amendment bylaw was given third reading subject to VARS clarifying resident concerns.
Public Hearing for Council Procedures Bylaw
Council gave third reading to Council Procedures Amendment Bylaw No. 786, 2018. The bylaw is required to advance the date of the first council meeting following a municipal election since the election date has changed by a month.
Opposing Health Tax
Council moved to send a letter to the Premier of B.C. and Minister of Finance objecting to the Health Tax that it would burden employers with more than $500,000 payroll.
Municipal Insurance
Staff requested putting out a multi-year RFP for municipal insurance versus a one-year RFP last year as an opportunity for lower bids, freeing staff time by not completing the RFP process on a yearly basis and saving on contractor expenses for the RFP review process. Staff provided historical information on past premiums and addressed some of Councillor Reimer's concerns that came up at the last meeting. Council moved for a one-year RFP for municipal insurance.
Supporting Seniors
Council endorsed the Valemount Senior Citizen's Club in their application to New Horizons to seek funding for recreational, social and cultural programs to be offered through 2019.
Valemount Elementary School PAC Request
Council waived the picnic table rental fees for the June 26 PAC fundraising barbeque and approved the request to have Public Works assist in event preparation.
Canada Day Celebration
Council waived the rental fees for use of the Village Tent by the Valemount Museum and agreed to donate a large cake to the Canada Day event.
Support for Community Forest's Grant Application
Council supported the Valemount Community Forest's application for $100,000 to the BC Rural Dividend Funding Program for the completion of a LIDAR survey.
Development Permit for Commercial Lodging
Council approved the Development Permit (with a variance) to support the development of commercial lodging (to include a retail space) at 885 Cranberry Lake Road.
Development Permit for 1495 7th Avenue
Council approved the permit to allow exterior renovations, sidewalk repair and the addition of a covered vehicle passageway at the office entrance of the hotel. Staff Shepherd said that any remaining garbage or construction waste is enforceable by bylaw.
Development Permit for 1380 5th Avenue
Council approved a permit to allow the placement of an accessory building at the rear of the property.
Development Variance Permit for 1133 – 14th Avenue
Council gave final approval for a permit to allow an accessory building on the property with a variance in height from 3.5 metres to 5 metres (instead of requested 6.1 metres) and a reduced setback.
C&M Services Reduced Business License Fees
Council defeated the motion to lower the business license fee for C&M Services to $25 like a home-based business since the owner is providing services in the village and not at their home.
Elevator Cost
Staff provided an estimate of $100,000 for a vertical platform lift since the reception for the municipal office has moved upstairs and mobility might be an issue for some people to come downstairs to meet other staff. The money for the renovations was not available in the budget at this time.
General Election and Voting Bylaw
Council adopted the election bylaw 785, 2018 to comply with provincial legislation and the Local Government Act to amend the ballot and permit only one scrutineer per candidate.
Officers and Employees Bylaw
Council gave second and third readings to an amended form of Officers and Employees Bylaw No. 788, 2018. One of the clauses under responsibilities for Director of Finance (DoF) was modified that DoF, in conjunction with CAO, determine and identify staffing resources.
Council Reports
Valemountain Days – Councillor Blanchette, Torgerson and the Mayor gave congratulations to Sports Day President Jen Scheller, the board and all the volunteers for a well-organized event.
Councillor Salt and Torgerson met with United Way of Northern B.C.
Councillor Torgerson attended Tourism Week celebrations, Valemount Community Forest meeting and went to Chu Chua for installation of the new Simpcw council.
Mayor Townsend attended the grad ceremonies at the Secondary School and made a CBT scholarship presentation for citizenship.
In Camera Items
Council closed the public portion of the council meeting to discuss two in-camera items related to negotiations related to proposed provision of a municipal service.