By Andru McCracken
---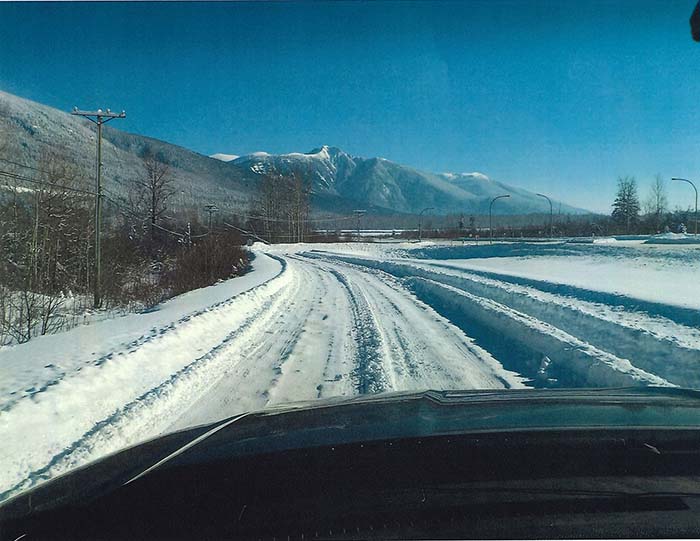 What should be the Village of McBride's first priority after a snow storm? Everybody has an opinion after McBride received a major dump on February 6th and 8th.
Mayor Loranne Martin said contractors were busy which left the McBride Public Works on their own to clear the streets with their four man crew.
"Contractors are busy and several didn't have insurance because we had had no snow," said Martin. "When you get a major snow event like that it is difficult to deal with."
A flat tire on the grader caused delays during the first snowstorm, Public Works Foreman Matthew Slaney reported to council.
Public Works also reported to Council that the crew was having conflicts with local traffic even at 4am and 5am and was unable to complete certain sections of town, despite trying different strategies. Slaney said next time they will try closing Main Street while they clear it in order to avoid traffic conflicts.
Martin said she fielded many phone calls from residents complaining about the slow progress.
Martin said council and administration are happy to take feedback on the issue, but asks residents not to vent at staff, who are simply doing their work.
"They were up early trying to get a jump on things. Imagine how long it took them to shovel out of their driveways to get there," Martin said.
RCMP Corporal Kyle Ushock wrote to council with his own concerns. He said the North East Frontage Road was reduced to a single lane of traffic causing access issues to the police station. He said he had to go to the village office to request it be cleared three days after the snowstorm.
"During a recent snowfall event, I became stuck on Dominion Street due to the amount of snow, which required me to utilize my personal snow-blower to free my police car. If members get stuck on their residential street, they are not able to respond to calls for service which is a major concern for public safety," he wrote.
Ushock wants to add three more streets to the first priority list, increasing the number of first priority streets from four to seven. Existing streets on the first priority list include Main St and access to the hospital and schools.
Ushock wants the Frontage Road where the RCMP station is located and the street where he and other officers live to be added.
Uschock produced a highlighted map for council showing the additions.
Fire Chief Dave Hruby just wants fire hydrants kept clear for access.
"In the interest of safety it is preferable not to have to spend valuable time trying to locate a buried fire hydrant," he said.
He said he'd like the village to increase the priority of hydrant clearing.
Resident Gary McFarland documented his wife's three encounters with snow removal equipment while dropping their children off at school and requested that the village only plow at night to avoid conflicts with traffic and pedestrians, as is often done by industry.
Martin said the snow clearing policy would be reviewed by administration.
"I recognize that there are issues," said Martin. "They will be addressed by administration in a timely manner."
"These snow events that are happening are going to be more frequent with climate change. I want them to look at the entire policy."