by Goat Staff
---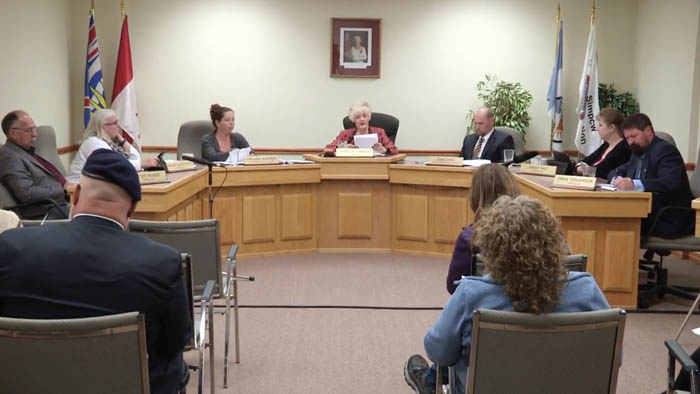 Mayor Jeannette Townsend, councillors Hollie Blanchette, Peter Reimer, Sandy Salt and Owen Torgerson met on January 23, 2018 for their regular Council meeting. Chief Administrative Officer Adam Davey, Corporate Services Clerk Carleena Shepherd, EDO Silvio Gislimberti and Administrative Assistant Megan Vicente were the staff present.
Council approves Land in principle for Affordable Housing development
Rashmi Narayan, Riette Kenkel and Shirley Mackillop made a presentation on behalf of the he Housing Committee, appointed by Council, to provide an update on their work since their first meeting in January 2017. Their data collection subcommittee provided information on undeveloped lots, seasonal versus residential ownership as well as the growing ratio of house prices to median income.
The Committee made two requests and Council approved them both. One was to have Council provide land in principle. The financial terms and details would be worked out later.
Second request approved was to permit the housing committee to apply to the CBT Community Initiatives grant stream to hire a consultant to determine suitable land for an affordable housing project.
Airport Improvements
Council approved staff to apply for the BC Air Access Program for Rehabilitation to the Valemount Airport lighting system and should the grant be awarded, then a maximum of $40,000 from the village's general surplus account be dedicated to Airport Improvements. The airport improvements project estimate is $116,690 for all new LED lighting and all necessary upgrades/repairs to the electrical system. The BC Air Access Program can cover 70% of rehabilitation costs.
Visitor Centre Annual Report
Wendy Dyson and Bruce Wilkinson, owners of Adventure Management Ltd., are retiring from operating the Valemount Visitor Information Centre after starting in 2006. In their final report, they provided statistics showing an increase in visitors (16.5%) and in buses (17.9%) in 2017 compared to 2016. The net cost to the Village for operating the centre went down from $21,939 in 2016 to $15,935 in 2017. Valemount Visitor Centre received a TripAdvisor Certificate of Excellence in 2017, and is rated as # 2 of 13 "things to do" in Valemount.
Province should cover Highway Rescue Costs
Valemount and Regional District will be making a combined resolution to the 2018 NCLGA convention, and if approved, to be submitted to the 2018 UBCM convention that the Provincial Government assumes the responsibility of funding rescue services and not local taxation.
Resources for local Emergency Operations Centre
Council approved that staff apply for the Community Emergency Preparedness Fund, Emergency Operations Centres & Training stream up to $25,000 for the purpose of purchasing a generator for the Municipal Office (Emergency Operation Centre).
Development Permit approved for Gas Station and Convenience Store on 17th Avenue
Council approved staff to issue a Development Permit for a commercial retail space (to include a convenience store) and gas station at 1400 17th Avenue. Access to the property will be from 17th Avenue. Adjacent property members sent in letters but these were not heard as it was not a public hearing for rezoning and the development was in compliance with the Official Community Plan.
Council Reports
Councillor Blanchette attended the Housing Committee meeting.
Councillor Reimer attended the Valemount Historic Society meeting as well as the Housing Committee meeting.
Councillor Salt attended her first Direct Heat Use committee meeting.
Councillor Torgerson attended a meeting for VARDA.
Mayor Townsend attended the regional district's budget meetings and the BC Natural Resources Forum in Prince George. She was impressed by opening keynote speaker Perry Bellegarde, National Chief of the Assembly of First Nations, who said – "If Economic development is planned with First Nations, it is always going to be a success."
In-Camera Items
Council closed the public portion of the council meeting to discuss two in-camera items related to labour relations and negotiations relating to proposed provision of a municipal service.