by David Suzuki
---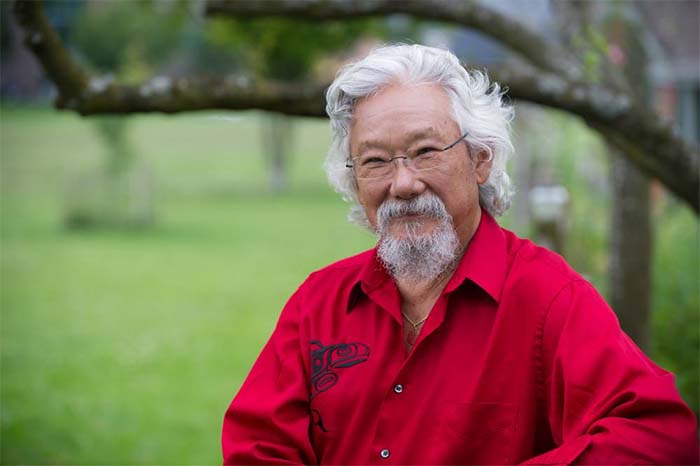 With contributions from Senior Communications Specialist Theresa Beer
Do you remember Harry Potter's invisibility cloak? It turns out wizards aren't the only ones who can vanish from sight with a special coat. Marine researchers have discovered shrimp-like crustaceans called hyperiids that can hide in the open using internal nanotechnology to cloak themselves in invisibility. That's just one among many fascinating discoveries to celebrate on World Oceans Day, June 8.
Last summer, scientists confirmed the elusive Greenland shark can live up to 400 years, beating out ancient bowhead whales and rougheye rockfish for the longest documented lifespan of any vertebrate. Researchers are just starting to learn about the two-metre, scale-free ragfish with cartilage skeleton and flabby flesh found in Alaskan waters, and the faceless fish found in Australian waters, whose eyes, gills and mouth are hidden.
That we're still discovering new wonders in the oceans is even more reason to protect them. We have a long way to go, though. In early 2016, about three per cent of oceans had formal protection from industrial activities, up from one per cent five years ago. Twenty countries, including Chile, Palau, the U.S. and the U.K., have committed to increasing marine protection.
Last summer's expansion of Hawaii's Papahānaumokuākea Marine National Monument created the world's largest marine protected area. In October, the Ross Sea — home to some of the most productive waters in the Antarctic — was finally declared a marine reserve after a decades-long push. When a coalition of 24 countries agreed to provide international protection for 1,548,812 square kilometres of the Southern Ocean, the Ross Sea surpassed Papahānaumokuākea as the largest marine reserve. Most impressively, Palau, part of Micronesia in the western Pacific, turned 80 per cent of its waters — an area the size of California — into a marine reserve. Britain established the Pitcairn Islands reserve in the South Pacific, a contiguous underwater park nearly the size of Pakistan.
In 2016, Prime Minister Justin Trudeau and then U.S. president Barack Obama issued a joint statement to "substantially surpass" international commitments to reach 10 per cent marine protection, even though Canada has protected less than one per cent so far. Our government is getting started, though. It announced strong protection for globally significant glass sponge reefs near B.C.'s Haida Gwaii earlier this year, ending years of inaction.
Along with increased ocean protection, new technologies are opening up ocean exploration. Researchers are adapting drones to track coastal erosion, map coral reefs, survey penguin populations, assess whale health and even learn about mysterious sea turtle behaviour. Thanks to a microscope that works underwater, scientists are learning how coral polyps interact and about patterns algae use to take over coral ecosystems.
Some jurisdictions are also getting serious about plastics that are choking seabirds, fish and marine mammals. California and Hawaii banned plastic grocery bags and some countries discourage use through taxation. In the U.S., Congress passed the Microbead-Free Waters Act to phase out tiny plastic microbeads in soaps, facial scrubs, toothpaste and other products by 2018. The United Nations Environment Programme is calling for a worldwide ban on products containing microplastics.
Protection efforts appear to be paying off. This year, the Committee on the Status of Endangered Wildlife in Canada down-listed shortfin mako sharks from "threatened" to "special concern". Around the world, anti-finning campaigns have helped decrease shark fin consumption. Endangered manatees made a comeback in the U.S., with Florida seeing a 500 per cent increase in the population, prompting the U.S. Fish and Wildlife Service to propose reclassifying them from "endangered" to "threatened".
Many whale populations are also rebounding after decades of commercial exploitation. Hunted to near extinction in the early 20th century, North Pacific humpback whales were recently reclassified from "endangered" to "special concern." Biologists estimate their population at 18,000.
Likewise, blue whales in the eastern North Pacific off California are showing signs of recovery, currently numbering about 2,000. Nearly exterminated by commercial whaling fleets before receiving worldwide protection in 1967, blue whales remain one of the rarest marine mammals, numbering between 10,000 and 25,000 worldwide.
Earth's oceans still face many overwhelming challenges and political obstacles, yet the resilience of nature and ecosystems is powerful. If we can rally around actions that protect rich ocean biodiversity, they can continue to provide an endless bounty of wonder and treasure.