by Goat Staff
---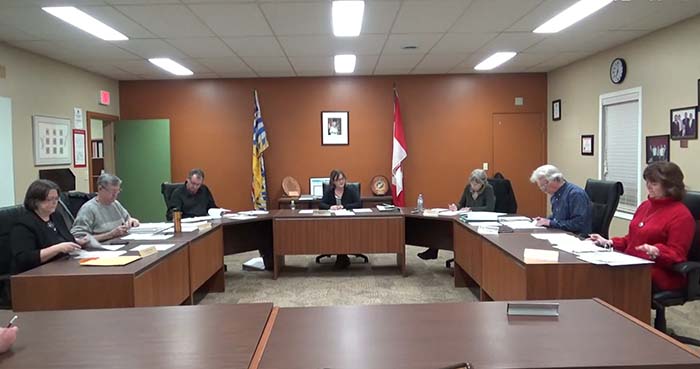 It was a skeleton crew at the February 13th council meeting in McBride. Lucille Green was acting mayor, Rick Thompson was the sole councillor in the room, and Rosemary Hruby participated via teleconference. Staff present included interim chief administrative officer Mark Brown and chief financial officer Claudia Frost.
Council adopted the minutes from the regularly scheduled January 23rd meeting as well as the February 6th Special Council meeting.
There were no petitions or delegations or questions from the public.
Unfinished business
Council adopted the terms of reference for the broadband select committee. Thompson directed staff to begin advertising for committee members.
Five Year Financial Plan
Thompson sought many clarifications regarding the Five Year Financial Plan, a process that will be handled outside council meetings. Here are the highlights.
Frost said that staff had investigated the impacts of having all village staff trained on every piece of equipment.
"There will be an increase in wages," she said. "The class of wages go up no matter what they are doing.
"I really do think we have enough money to accomplish some of that."
Frost said that staff will have two workers trained to manage both water and sewer.
Thompson pointed out the magnitude of the budget shortfall, as currently presented.
"I'm reading a figure of total revenues coming in not, including water and sewer, of $2,085,296.27," he said.
Meanwhile total expenditures tallied $2,261,491.56, he pointed out.
Brown said that there is an option of taking the difference, roughly $176,529, from surplus
"It's all up to what council wants to do moving forward," said Frost.
"The culverts, the zero turn mower, we could live without."
"The garbage truck we could possibly make it through another year," she said.
"If something happened to our garbage truck it would probably take 6 months to replace it."
She said council had $65,000 in reserve for equipment.
"I remember seeing an email where another 8000 meetings are planned," said Thompson, to general laughter. "Have you budgeted for bunk beds?"
Brown said this is a draft for council to look at.
Reports
There were written reports from Councilor Green and mayor Martin.
Correspondence
Council agreed to write a letter supporting the Valley Museum & Archives for a grant application of $15,000 for the Robson Valley Digitization Project to Library and Archives Canada.
Bylaws
Council gave third reading to Bylaw 775, 2017 Board of Variance. Hruby asked what the delay was. Green explained that council had wanted to finish its work on a related Fees and Charges Bylaw.
Sign committee
Green said the sign committee met that day. Green said that there was a suggestion to include laws regarding the operation of recreational vehicles in British Columbia and that this should be included in sign design. Green described how signs describing different parts of the committee would be developed by subcommittees.
Gateway to the Ancient Forest – Use of Trade Mark
Council received a report that essentially allows third parties to use the Village's trademark, provided they abide by a licensing agreement. Council approved the move.
Handling marijuana
Council grappled with how to handle the licensing of marijuana distributors. Thompson counseled waiting for other municipalities to do it first. Hruby said it's time to start thinking about how to deal with it in McBride.