by Andru McCracken
---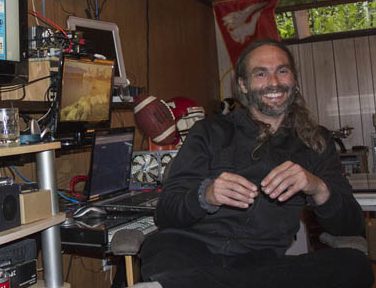 Many people have serious doubts about cryptocurrency, but for Mark Cowan, a former Dunster resident, his interest in the newest form of currency was sparked after the 2008 financial crisis.
Before moving to Dunster, Mark Cowan was a Boilermaker in Alberta, but during the 2008 financial meltdown he saw his union pension blow up in smoke.
"I witnessed the collapse of the pension funds. I didn't have much invested in it, but I saw others that did," he said. "I had a realization that if you don't own it, you don't have it."
Soon after he moved to Dunster and he began buying gold and silver.
"It was something I could hold," said Cowan.
Cowan first heard about Bitcoin on a television program called the Keiser Report, which airs on an English language Russian news channel.
Cowan learned about the idea of this 'digital gold,' and before long he was earning bitcoin working for the Dunster Community Forest.
He believes in the currency and has the majority of his retirement savings invested in it.
But what he liked at first was the anonymity, boycotting both banks and national currencies. He said that cryptocurrency appealed to what he calls his 'anarchist tendencies.'
"All of a sudden I started to see the other aspects that bitcoin carried," he said. "A kid can't shop online because the credit card companies won't deal with a minor. A guy who's got a squeeze on his bank account from the old lady has a different reason why he doesn't want to use the bank."
Cowan believes that cryptocurrencies are in their infancy, similar to the advent of internet, and what comes next will change our lives as the internet has.
"Now the internet is every single thing we do," he said. "This is going to be a massive change in money."
Cowan encourages people to learn more about it, not necessarily the nitty gritty technical details but the gist of it and what it means for the future.
"This is incredibly important to learn," he said. "But you don't need to know how an automatic transmission works. There are clever people who design automatic transmissions…. You just put it in drive and go."
"It's done well for me. I like it and I still use it. I still believe in it and I think I can see a $100,000 Bitcoin in my lifetime."
At the time of writing a single Bitcoin was worth $12989.47 Canadian. It lost 20% of its value over a 24 hour period between January 15 and January 16. But overall the value of Bitcoin has been growing since its infancy. In 2010 it took about 10,000 Bitcoin to buy two pizzas, according to Business Insider. Now that would be worth $100 million Canadian dollars. Many people, like Cowan, have made a lot of money investing in it to date despite it's ongoing volatility.
"Anyone young should probably have some sort of holdings in some form of cryptocurrency that they actually believe in," he said.
Cowan no longer lives in Dunster.
"When my Bitcoin went a little crazy there I bought a franchise of Mary Jane's Glass and Gifts," he said. His medical marijuana franchise is based in Williams Lake, BC.