This series examines Valemount's air quality problem in detail, the impact on people's health, the myths about how to solve the problem, and possible solutions, from easy to far-reaching.
by Andru McCracken
---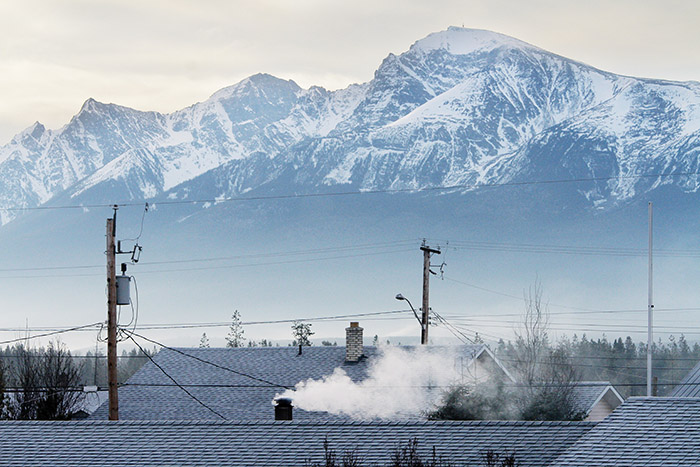 This is the fifth part of a five part series about Valemount's air quality and potential solutions, but given what we've learned about the long term health impacts it won't be our last.
What we've learned so far:
Valemount has an air pollution problem that eclipses every other community in the province by a large margin.
A lack of natural gas in Valemount means that there is a lack of affordable alternatives.
The level of pollution is determined by a direct measure of the amount of particulate in the air that is under a certain size (2.5 microns).
The levels in Valemount far exceed provincial targets.
There are a number of direct health impacts on the whole population, with severe consequences for some.
Meteorology (the weather, specifically low wind speeds at night in winter) and topology (surrounding mountains) trap pollution in the valley bottom.
Seasoned firewood and good technique can drastically reduce the amount of noxious particulate that your appliance creates (a good fire should not show visible smoke after start up, nor when damped down for the night).
In this final installment we look deeper at alternatives to wood stoves. Efficient building, potential for central biomass heating and cleaner forms of wood heat.
Efficient building design
Not everybody can afford to build a new home, but if you do build a new home and build it right, you may not need to heat it much.
That's what the Rocky Mountain Goat's Publisher, Laura Keil, has found [disclosure, this is the editor's home too!]. Her 1800 square foot home on 8th Avenue in Valemount is a certified Passive House, built by Erik Olofsson Construction Inc. The home is built and positioned to take advantage of the sun both in summer and winter. The 22-inch thick walls have an insulation value of R80 and the foundation is also insulated.
"People are surprised we have no furnace and heat with electric baseboards," said Keil, "But we need so little heat that they're barely on."
The house, occupied by three people, uses $50 of electricity per month on average. Building a Passive House costs about 10% more than building a typical home, but the savings add up over time.
"I'd like to see more houses and apartments built this way in Valemount, especially for people on fixed incomes or with disabilities who struggle with ongoing living expenses and the work involved in heating with wood."
Slash burning solutions
During their presentation at the Valemount Air Quality and Health Forum meteorologist Gail Roth made the connection between bad air quality days and wood debris burning from land clearing. Smoke from nearby slash piles has long been a source of contention for some Valemount locals. Could slash piles be hauled to town, chipped and burned in an efficient boiler to service residential homes, a sort of rural answer to natural gas?
We asked David Dubois.
Dubois is an expert on biomass heating and manager of business development for the Enderby based company, Fink Machines. The company runs a district heating system in Enderby, and is the largest supplier of wood chip boilers in Canada.
Dubois said that while it is possible to heat the community with waste wood using centralized, efficient boilers,the challenge is the cost of distributing that heat.
"The challenge is not a technical one," said Dubois. "The challenge is an economic one."
Dubois said in new subdivisions the system would work well, because the cost of installing the distribution system is minimal, but a major capital project digging up alleys and crossing roads could be prohibitively expensive.
The wood stove's cleaner cousin
Dubois said the community could be overlooking a source of residential wood heat that beats natural gas for price and is a close contender to wood heat: Wood pellets.
If you are paying $100 per truck load of wood ($200 per cord), pellets already make sense, said Dubois.
"You probably aren't saving that much using wood," said Dubois.
For Dubois, a sensible way for Valemount to improve air quality is to incentivize pellet stoves, and develop a bulk distribution system for pellets.