by Andru McCracken
---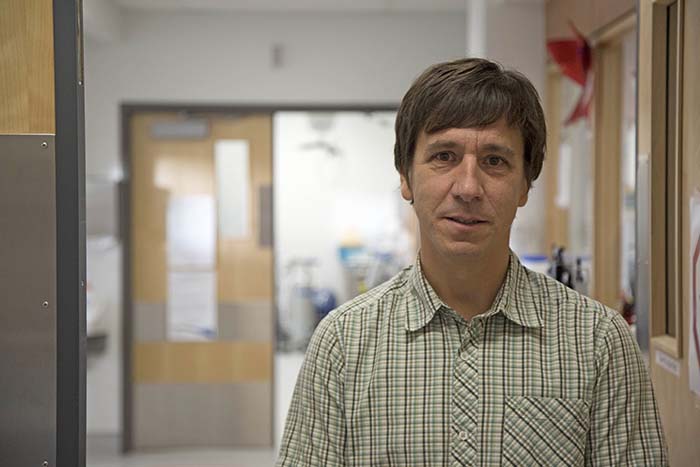 Despite a host of injuries at the Valemount Bike Park in its first few seasons of operation, don't expect to get an anti-bike park message from the Valemount Health Centre's newest recruit, Dr. James Card.
Local doctors have been keeping track of injuries on a map of the Valemount Bike Park. Bike riders report where their injuries occurred, and a pin, colour-coded for injury type, is pushed into the location where it happened.
"The map was an off-the-cuff idea to capture some information," said Card. "It's ingenious."
"It can point to a trail, a feature, the type of injury," he said. "When you see a cluster of pins it helps show a pattern.
An early surprise was that the green run Bacon was the source of most of the injuries and more recently they are seeing more injuries on the bigger features at the top of the park.
Card said that collaborative communication with VARDA is helping make the trail system better.
Curtis Pawliuk, VARDA manager said it's a great idea.
"We hope to continue to collaborate with the clinic staff to share data and maybe even enhance some of the data they collect when an injury is noted to see how we can further improve the trail facility," said Pawliuk. "In the end the primary goal is to educate riders to start slowly and develop their skills at a suitable pace before moving on to more difficult trails and features."
He believes a skills park in Valemount, an asphalt pump track would go a long way to helping riders improve their skills for the bike park.
Better the devil you know
Even though some people are getting hurt, Card is a proponent of the bike park.
"Something we don't study is how do you quantify the health benefits of a bike park. You can measure broken clavicles, fingers and arms. But how about keeping kids off drugs, and decreasing obesity?" he asks.
He believes the benefit of outdoor activity has the ability to spark a lifelong love of fitness.
"Kids are active and riding their bikes. It's not like an addiction, but it is an addiction – it leads to an attitude and bikes are everywhere."
Doctor Cycle
Card works quarter time in Valemount. He also does advocacy work with Doctors of BC and works as a locum, but all told he works less than full time.
"This is why I got into medicine, for the lifestyle and so I can pick and choose what I will do," he said.
Each year Card volunteers 40 to 50 days at Powder King and he was initially attracted to Valemount because of the proposed Valemount Glacier Destination ski resort. Since arriving, he appears to be falling in love with the growing enthusiasm for the outdoors.
"I love the bike park, I love the volunteerism," said Card. "There is a change happening here that is quite remarkable."
He's amazed at the work bees and the dozens of people who come to help out as well as the stoke about healthy outdoor activity. And he is a massive fan of Randy Pruden, known as the trail gnome, who is constantly at work in the summer keeping trails in great shape.
"I'm at a point right now where I wouldn't mind if [Valemount Glacier Destinations] didn't happen," he said. "That's saying a lot."
Reformer, cheerleader, tree planter
Card is a graduate of the first class of Northern Medical Program in UNBC, a program designed to train doctors to fill vacancies in the north, Card has received accolades for attracting outdoors-loving doctors to communities like Mackenzie that have struggled with keeping physicians. He helped reform the arcane rules that made doctors have to hustle through patient visits to earn their keep and instead work on contract, resulting in less doctor turnover and better care for rural people.
"There was a financial reward for dealing with patients quickly and not well," he said.
He describes simple procedures often being broken down into multiple visits to help generate income for doctors. In the Robson Valley, that doesn't happen, as doctors are essentially paid a salary.
"It's easy to tie volume to value," said Card. "It's the same as the bike park."
Remarkably Card grew up in a suburb of Vancouver. He moved to Prince George straight out of high school to work as a tree planter.
"I've covered all four corners of the province. I took a break to go back to school, but I kept planting trees until medical school," he said.
He planted trees for 13 seasons in total.
"I still identify more as a tree planter than a doctor. I'm happier in a tent than a four star hotel."
Q&A with Doctor Cool
Have you had any bike crashes?
Never anything serious…but I have friends who have. I'm cautious as I want to do this for a long time.
What level rider are you?
I'd consider myself a solid intermediate rider. I can ride most anything but I avoid big stunts. I'm always thinking about potential consequences.
What is your favourite trail here?
I had a blast on Stump Town/Moby Dick through the fall, but I also like the climbing trail…depends on my mood I guess. They are all good!
Favourite jump?
Little ones. I learned on the north shore, back when it was more of a slow speed steep and technical descent. It was less about jumping.
What do you prefer table top or gap?
Table, I'm always thinking about possible consequences…nothing feels better than a smooth landing on the transition.