by GOAT STAFF
---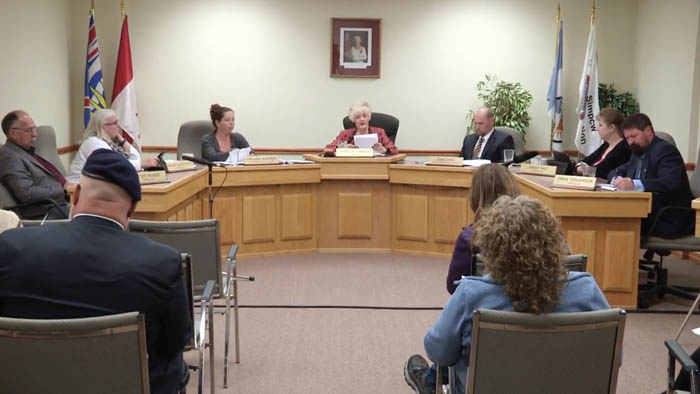 Mayor Jeannette Townsend, councillors Hollie Blanchette, Peter Reimer, Sandy Salt and Owen Torgerson met for the regular Council meeting on November 14. Chief Administrative Officer (CAO) Adam Davey was present.
Chief Elected Officials Forum
Mayor Townsend will attend the forum in Richmond, BC on December 7 and 8. The forum is open only to mayors, regional district directors and First Nations chiefs.
Valemount Children's Activity Society request
Council agreed to support the society for a grant application.
Northern Medical Program
Council received a PowerPoint presentation about the Northern Medical Program that included valuable statistics.
Rider's Choice Awards
Council will send a letter of congratulations to VARDA and to Tourism Valemount. In SnoRiders West magazine's 2017 snowmobiling destination contest, Valemount was awarded Silver in the categories: Favourite Scenic Snowmobiling Area in BC and Favourite Overall Snowmobiling Area in BC. It got Gold in the category: Area You Would Like Most to Ride in Future in BC.
Columbia Basin Trust Committee Appointments
Council approved appointing Donnie MacLean, Rashmi Narayan, Tom Jamin and Hugo Mulyk all for two year terms. The committee still has Mike Johnson with one year left plus councillor Hollie Blanchette. The village did not receive enough applications and the committee is still one person short.
Community Emergency Preparedness Fund
Council recommended that staff apply for the Community Emergency Preparedness Fund through the Province's Emergency Social Services stream. The funding can send staff to Emergency Social Services Training programs, bring training to the area to prepare staff and volunteers for an emergency situation and go towards supplies needed in the event of an emergency.
Valemount's Strategic Plan 2018-2022
Council received CAO Dave's Strategic Plan after council's planning session on September 14, 2017 that was received in-camera on October 24, 2017. The document is available on the Village's website, as part of the November 14 agenda. The top 10 priorities in order are: Public Health Water and Sewer, Zoning Bylaw Updates, Support for Valemount Glacier Destinations Resort, Streamlining Development Procedures Bylaw, Pre-zoned Land Issue for R1 Servicing and Development Expectations, Finances and Taxes, Water resource, Exploring Geothermal, Financial Reserves and Cleaning up properties.
Fees and Charges Bylaw 778, 2017
Council gave first and second reading to Village of Valemount Fees and Charges Amendment Bylaw No. 778, 2017 to increase utility water and sewer rates by 9.5% and solid waste rate by 3% for 2018 and 2019 fiscal years. In response to Councillor Salt's question, CAO Davey said he would clarify at the next meeting which rate would apply to IDA after their relocation and expansion.
Council Reports
October 27's Air Quality Forum hosted by Ministry of Environment and Climate Change was attended by Councillors Reimer, Torgerson and Mayor Townsend. Mayor Townsend said it was an informative session and she learned that wood stoves are the major contribution to poor air quality for the community.
November 11 Remembrance Day ceremonies were attended by Councillors Salt, Torgerson and Mayor Townsend.
Anglican-United Church's Harvest Dinner was attended by Councillor Blanchette and Mayor Townsend.
Community Forest meeting on November 6 was attended by Councillors Reimer and Torgerson.
Councillor Blanchette attended the Children & Youth Mental Health committee meeting on November 6.
Councillor Torgerson attended the Thompson Okanagan Tourism Association's AGM and Summit in Kamloops on behalf of Tourism Valemount on November 1 and 2.
In-Camera Items
Council closed the public portion of the council meeting to discuss two in-camera items.