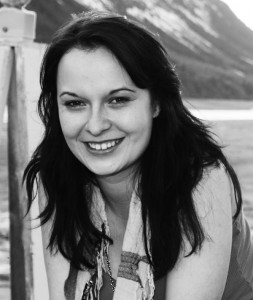 by RADKA ZITKOVA
It is six years ago that I first came to Valemount. I was a city girl through and through back then, used to my soya milk lattes, two cellphones in hand at all times and CN Tower sunset views instead of mountain ones.
I just finished a job at a film festival in Toronto, and my friend Laura mentioned she could use some help with her paper that was just about to celebrate its first anniversary. It seemed like the right time for that kind of adventure and I can now easily say it was one of the best decisions I ever made.
The town was smaller and quieter than I expected. What can we actually write about here? I remember thinking. Maybe about bears that wander in…?
They did wander in, but we didn't write about them, at least I can't remember it. Instead I learned how to write about things that matter to a small community of people. Daycare, local school, water quality, rodeos, salmon, new tourism plans. What's more, I learned what it was actually like to live in a small community. One that works together. One where you give each other potatoes when you have too much, one where you help each other with housework when a neighbour needs it. Here comes the irony though. This was new to me not because I moved from downtown Toronto but because I spent my childhood in a community that is ten times smaller than yours.
Before I was a city girl, I was a farm girl. I grew up in a village of 100 people in Czechoslovakia, now the Czech Republic. In theory it should have been a tighter community than Valemount. Everyone is each other's neighbour, everyone always somehow knows who is at home or gone for a weekend. But it isn't tighter. In fact the reality could not be further from that.
When Andru and Laura came to visit my parents who still live there, one of their first questions was where were all the people. The streets were empty; we did not meet a single person during our afternoon stroll. There was some movement behind window curtains, there were some voices from peoples' yards. But that was it. People there don't go out when they don't have to. They don't really work together when they don't have to. They live their own lives. Individually and quietly.
Forty years of communism left its marks. People remember which family was collaborating with the secret police, they remember who was watching their house at night and made notes who they spoke to. They don't forget and they don't trust. My parents would always leave lights on when they were away to confuse the neighbours. My grandma has two giant dogs, three locks, one broom keeping the handle in place and one case of empty beer bottles making noise behind the door as a protection and alarm system against the thieves. I am 31 years old and I have never heard about a burglary in my hometown during that time. Apparently, that is not a valid argument.
Your open doors, arms and hearts charmed me right away. Your passion to make Valemount better made me want my hometown to be better. And six years later I see that you do have results.
Valemount changed over the years I haven't been here. There is more energy. The bike park that I only started to hear about when I was here last time is actually up and running. The brewery that even a Czech admires is growing and even the ski resort seems closer to opening. The fact that you just sponsored a refugee family from Eritrea and are collectively trying to help them is just a cherry on top. This would not happen in my hometown but you make me want to change that.
Thank you for that. I can't wait for how you will surprise me next time, Valemountians.
Radka Zitkova
Prague, Czech Republic