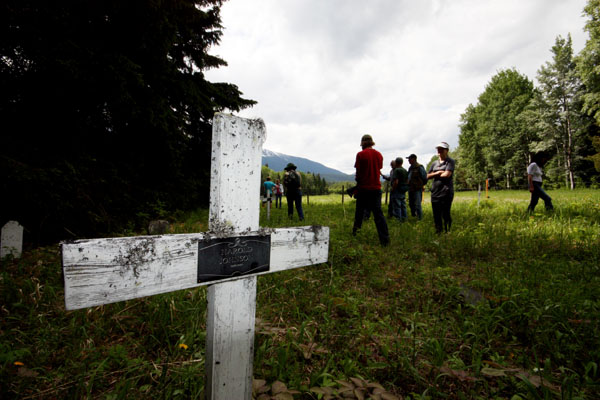 by EVAN MATTHEWS
Ten months after making the news official, the Regional District of Fraser-Fort George (RDFFG) has finalized a borrowing agreement to fund the Tete Jaune Cemetery.
At its Jul. 20 meeting in Valemount, the RDFFG board passed a temporary borrowing bylaw with the Tête Jaune Community Club's Cemetery Service, which authorizes the service to borrow up to $83,280 over a ten year period for the purpose of constructing the cemetery, including incidental expenses.
"This project has been in the planning phase for a long time," said Dannielle Alan, RDFFG Area H director.
"I'm absolutely thrilled to see this moving forward," she says.
The borrowing agreement states the Tete Jaune Community Cemetery will only borrow money as required, as the project progresses.
Ainslie Jackman, secretary for the Tete Jaune Community Club's Cemetery Service, says the club has completed land surveys outside the cemetery's perimeters.
"Next, the site needs to be cleared of trees and roots, and another survey to mark the plots," says Jackman, noting the cemetery committee will hold more meetings to decide on how to proceed, exactly.
"What will be the charge for full graves, cremation urns, memorial plaques? How and who will dig the graves, what kind of markers to use, what kind of a fence to install, or what kind of an entrance structure do we want?" Asks Jackman, suggesting there are still many details to work out.
The Tete Jaune Community Club's Cemetery Service is currently looking at the Valemount, McBride and Lucerne Lake cemeteries for design concepts, and Jackman says the RDFFG will be providing the Tete Jaune Cemetery Service with costing and operational protocols used by other small communities.
"There is still a lot of planning before we are open for business," says Jackman.
"We will have our first committee meeting early this fall once the land clearing and the surveying is complete," she says.
The Tete Jaune Community Cemetery service was established in 2012, according to a RDFFG report. The Crown transferred the property to the Regional District in August 2016, the report goes on.
Finally, the cemetery service registered a Certificate of Public Interest in order to have the property as a designated place for interments in December 2016.
To date, families who have been lifelong Tête Jaune residents have had to look elsewhere for proper burial arrangements, Jackman told the Goat last September.
"I guess we felt it would happen at some point, so it's not a big surprise," says Jackman.
"Families have been saving ashes in the hopes of laying their loved ones to rest here, and many of us hope to be buried here."