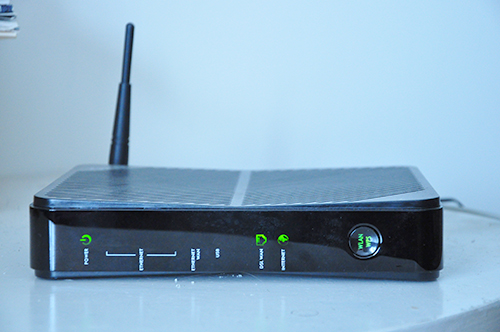 by EVAN MATTHEWS
Most will agree the internet speed and reliability in the Valley is functional for most things but not ideal.
While simply cruising the net isn't much of a bother; we wait, and wait, and wait for large photos and video to upload to online servers.
Entrepreneurs have shared stories with The Goat that involve driving to the high school and sitting in the parking lot to upload large files or hold virtual meetings.
For them, Telus does not offer a fast enough upload speed in any package.
The high school is one of only a few places in Valemount — and the Robson Valley — with a Fibreoptic Internet connection, but it was done so by the school division during a standardization process.
"All schools in School District 57 were upgraded recently through a Provincial Government initiative called the Next Generation Network (NGN) project," says Morris Scarpino, SD57's Technology Support Coordinator.
In some districts Internet speeds are up to 10 times faster than before due to the NGN project, according to the Province, making it easier for teachers to bring online learning tools to the classroom, so students can follow their passions and embrace B.C.'s new curriculum.
Fiberoptic Internet is one of the fastest connections available, transferring data fully or partially via fiberoptic cables. "Fiber" refers to the thin glass wires inside the larger protective cable, while "Optic" refers to the way the type of data transferred — light signals, according to Internet experts. Fibreoptic does not degrade, meaning consistent connections without lag or interruption.
"If many property owners are interested in pursuing the feasibility and cost of a fibre build, we are more than happy to speak with them and look into the possibility of a shared cost model," — Liz Sauvé, Telus spokesperson
Interestingly, Telus is currently asking people to fill out forms — a petition, of sorts — via its website, ultimately having customers ask Telus to bring the PureFibre (Fibreoptic) network to their respective neighbourhoods.
Most places in the Robson Valley use copper infrastructure, according to Telus, and the organization is working behind the scenes with its engineering and network teams to determine if it can increase the valley's Internet capacity and speeds.
"We have spoken with the community of Valemount and are currently working on ways to further improve the community's connectivity," says Liz Sauvé, Telus' senior communications manager.
"We are in the preliminary stages of determining the feasibility to upgrade the connectivity in the area, and don't yet have a definitive timeline to share," she says.
One of the only other places with a Fibreoptic connection in the valley is the Valemount Best Western Inn and Suites. The hotel upgraded its connection in May to match corporate standards, according to General Manager Christine Latimer.
Best Western had to purchase the fibre material through Telus, according to Latimer.
Though she didn't say exactly how much, Latimer said the cost was substantial.
"The Telus installation team told me there is no doubt we now have the fastest Internet in the valley," says Latimer.
But in regards to what it would cost an individual person to acquire a Fibreoptic connection, Telus doesn't have a consistent answer.
"It's nearly impossible to provide a general estimate to connect a property to fibre," says Sauvé.
"There are many variables at play and the cost can vary greatly depending on location and the existing network capabilities, in addition to whether or not the fibre can be strung aerially or needs to be trenched underground," she says, noting that areas with very low population density may not be feasible, as it greatly increases the cost of the build per customer.
However, Sauvé says Telus can sometimes look at more creative options such as a shared financial contribution model with the municipality or even multiple residents.
"If many property owners are interested in pursuing the feasibility and cost of a fibre build, we are more than happy to speak with them and look into the possibility of a shared cost model," says Sauvé.
Not everyone in Valemount's tech community feels the upgrade is needed.
John Salt, owner and operator of the website RCHelicopterFun.com, says his website is reliant on the speed of his website visitors' internet. He says his web host's server speed is more than adequate.
Salt's website goes over the many aspects of building and flying radio controlled helicopters as a hobby.
"In the grand scheme of all the B.S. I have to deal with on a daily basis running an online business — with my content being stolen and copied, ever changing search algorithms, wildly variable market trends, constantly shrinking margins, world wide increasing competition, customer demands, and just trying to understand and keep pace with everything — internet speed is so far down the list of concerns and daily fires, I rarely think about it," says Salt, noting if he offered live streaming podcasts, or Youtube broadcasts, or had to submit media for marketing purposes, it would likely be a far different story for him.
"Still, at the end of the day, any improvement and investment in infrastructure is win-win in my opinion, and here in the Robson Valley, having world class optical internet can only do great things for our future."