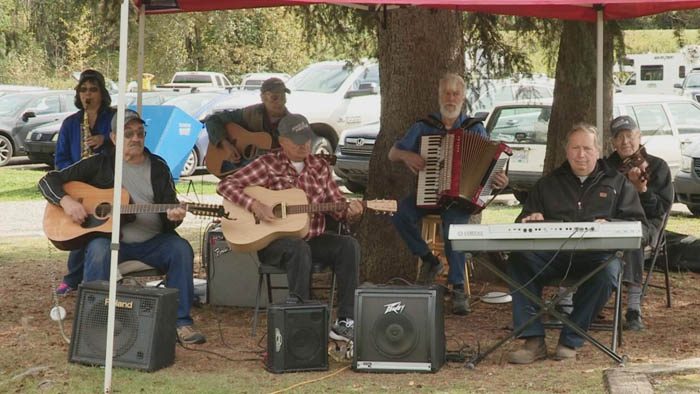 by EVAN MATTHEWS
With half of its members over 80 years old, the Valemount Old Timers are true to their name. Soon the community theatre will be filled with the sweet melodies of old-time music, as they will take the stage in a special event.
On Friday, May. 26, The Valemount Old Timers band is being asked to play at a tribute show — the first of its kind — as the band will record live to make its first record.
"This is not just a regular show. This is going to be a tribute to these guys more than anything else," says VCTV's Gord Peters, as he along with the Valemount Senior Citizens Club and the Valemount Arts and Cultural Society are organizing the concert.
"It's to show appreciation for the many years of music they have provided to the community," he says.
The idea came to Peters via a young man named Alex, who was filling in with the Old Timers last year, according to Peters. Alex told Peters the band would make for a great VCTV story.
In attempting to do the story, Peters says he found the show's "typical locations" less than ideal to shoot in — and then idea for a tribute concert struck him.
"I thought… these guys deserve something more — it needs to be bigger than that," says Peters.
"Then it just kind of blossomed into the tribute idea… The timing is right," he says.
The band is currently made up of Ken Abernathy, Gordon Carson, Lynn Carson, Joe Edwards, Art Hart, Lou Hartman, and Ray Leslie. They've been playing every Wednesday night at the Golden years Lodge for the past dozen years, and they do it for free.
"We play old-time music, all the stuff from way back when," says 82-year-old keyboard and piano player Ken Abernathy.
Old-time music is a subgenre of folk music, and is usually played on acoustic instruments in a combination of fiddle and plucked string instruments. The genre often has a bluegrass or country sound to it.
"They've never had a CD, and there are no recordings anyone can find or that anyone knows of their music. They have nothing to remember themselves by as they are in this incarnation," — Gord Peters, tribute show organizer and VCTV station manager
While the Old Timers have been playing consistent gigs for at least 15 years, the band is starting to see different variations of its line-up.
"This bunch (of musicians) has been playing together for about 10 years," says Abernathy.
The band is seen consistently at Canada Day, Valemountain Days, and the Mount Robson Marathon.
Because of their dedication and pure love for the music, and the fact many of the Old Timers aren't getting any younger, Peters says the timing is right to show the band a little bit of gratitude.
"They've never had a CD, and there are no recordings anyone can find or that anyone knows of their music," says Peters.
"They have nothing to remember themselves by as they are in this incarnation," he says, which is why the idea for the tribute idea came to be.
Peters is going to take the night a step further, as he's hired a sound crew to come in and record, mix and master the production.
All tickets proceeds from ticket sales, CDs and DVDs — which are all being pre-sold, in addition to being sold the night of the show — will go to the recording, mixing and mastering of the production.
VCTV is donating the time and equipment to produce the DVD copy, too, according to Peters.
"It's expensive (to put on), so we've got to fill the room," says Peters. "It's been years since they sold out the theatre, but we've already sold quite a few."
And while the show is just a couple of weeks away, Abernathy says he's excited to play this show in the same way he's always been.
"I feel like it's kind of my duty to play music for folks."
Tickets are $20 in advance at Infinity Office and Health, or $25 at the door.