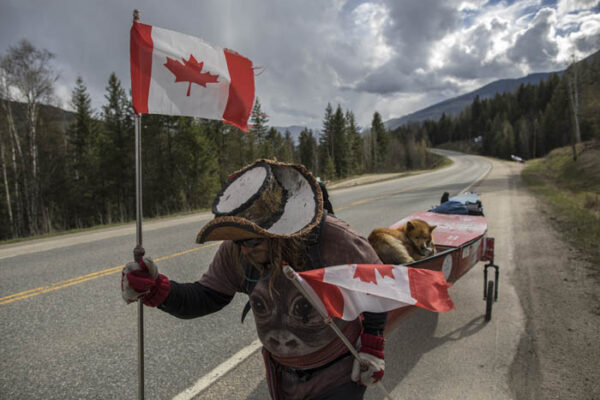 by EVAN MATTHEWS
Valemount had some unexpected and unique visitors this week, as two men and a dog are kayaking across Canada stopped to rest and re-fuel.
Mike Ranta — a self-proclaimed "modern day Voyageur" — is paddling from Bella Coola, B.C. to Cape Breton, Nova Scotia in celebration of Canada's 150, and also to raise awareness and funding for Post-Traumatic Stress Disorder (PTSD) affecting first responders.
The duo left Valemount via Kinbasket Reservoir on Tuesday morning.
"These are the men and women who run into situations most people run away from," says Ranta.
"We really want to say thank you to those people. They are true Canadian heroes… as they put their lives second to others," he says, adding he keeps Veterans in mind as well.
Ranta hails from Atikokan, Ontario, which he calls the canoeing capital of Canada.
Coming from a Finnish, French and Ojibwa background, Ranta says the diversity of his heritage is a huge part of what makes him so Canadian.
"I tell people I'm half Fin, half French, and half Ojibwa, and it takes a man and a half to cross the continent," says Ranta.
A professional solo-canoeist since 2011, Ranta has now done two major treks across Canada. His first was in 2011, when he paddled from Rocky Mountain House, Alberta to Montreal, Quebec in 130 days, he says. His second came in 2014, when he paddled from Vancouver to Tatamagouche, Nova Scotia, he says.
"If you want to meet some amazing people who really define what it means to be Canadian… This is it. This has to be one of the most Canadian things a person could do," — Mike Ranta, modern day Voyageur
"I've been in a canoe since I was a young fella," says Ranta.
"I love the fact that you're using your own power, and it's the oldest, greenest, most efficient way of travel. I'm thinking about getting rid of my drivers license," he says, laughing.
While Ranta is raising funds for many PTSD organizations on his current trek, he says starting a conversation is his first priority. Ranta's ultimate goal is to speak in front of the House of Commons, he says.
"There's a lot of things I'd like to ask our politicians," says Ranta.
"But I'm going to save it for them, directly… It's nothing they haven't been asked before, but they talk around it… I want to look them in the eyes and get an honest answer," he says.
The trek is 4,731 KM as the crow flies, but Ranta says it's difficult to quantify just how far he's travelling, as he's paddling and portaging versus using traditional infrastructure.
"We're living, eating and breathing off the land. We're making a connection with Mother Nature. It's a beautiful way to see our country," says Ranta.
"If you want to meet some amazing people who really define what it means to be Canadian… This is it.
"This has to be one of the most Canadian things a person could do," he says, adding thanks to the dozen people in Valemount who offered a place to stay, food to eat, or donations for the cause.
David Jackson, a freelance journalist and photographer, is trailing Ranta, as he documents the journey from start to finish.
As a freelancer, Jackson documents the journey and sells photos and write-ups to the various news outlets and magazines interested in Ranta's trek.
"I grew up hunting, fishing and trapping," says Jackson.
"I get to bring together a really unique and diverse skillset to follow along with Mike in these environments," he says, adding that simply because he is a high level kayaker, he's able to be in places other photojournalists can't be, as it's too dangerous.
While the two acknowledge the trip is too dangerous for most, there is the third member of the trek who deserves some recognition, they say.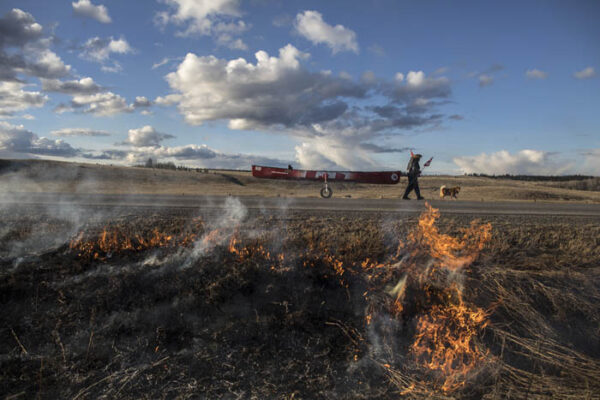 Spitzi is Ranta's dog, a pure bred Finnish Spitz, who travels with him every step — or every paddle — of the way.
"He prefers the canoe because he doesn't have to walk," says Ranta, saying he's had Spitzi since he was six weeks old.
"I wouldn't take something like this on without him," he says.
An interactive map is updated once every 10 minutes with the duos location, and can be followed on www.MikeRanta.ca, or people can follow David Jackson's photo gallery at www.davidjackson.photo.com or on Instagram @davidjackson_.