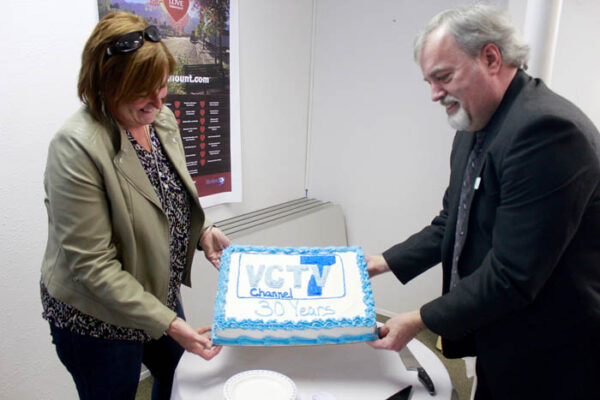 by EVAN MATTHEWS
From cable TV piracy to long trips up Canoe Mountain in extreme weather, the Valemount Entertainment Society (VES) and Community Television Station (VCTV) have pretty much seen it all.
On Thursday, Apr. 27th, roughly 25 people gathered in the Community Service Building's classroom to celebrate the 25th and 30th birthdays, respectively, of VCTV and VES.
Past and present presidents, station managers, bookkeepers, board members and community members gathered around to share stories from the past, vision for the future and thanks.
Gary Forman, who advocated for Valemount television prior to the forming of VES, told the story of community members spending $35,000 on a satellite dish to rebroadcast programming from afar.
In the 1960s, CBC was the only channel available in Valemount.
But in 1978, four or five people — including Gary Forman and Ed Landry — went around the community and raised the $35,000 to pay for the satellite, and Valemount had its very own local rebroadcast for the first time.
"We were so TV starved up here, it was ridiculous," says Forman, noting that using the satellite for rebroadcast was actually "pirating the signal."
"Taking the signal wasn't the problem, but the CRTC didn't want anyone to rebroadcast without a license, which wasn't going to happen.
"So we decided, 'lets just do it anyway,'" he says, adding Valemount was only the second community in B.C. to get such a satellite, but many other communities including Logan Lake, Clinton and a couple others quickly followed suit.
At the time, people told Forman he could go to jail for ignoring the CRTC.
"You know what, the whole Village is involved," Forman said at the time. "They'll have to put us all in jail."
After being hounded by the CRTC for the better part of a decade, locals formed VES in 1987 and Valemount went legitimate.
Over the years, VES and VCTV have faced more than just legal challenges, as extreme weather often caused technical issues, too.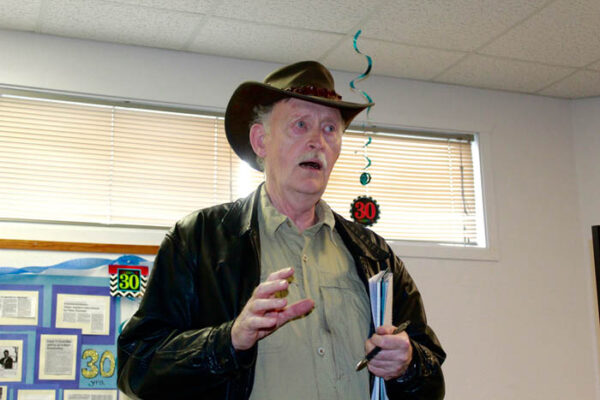 Former VES President Ray Flavelle says the original broadcast antennas were way up on Canoe Mountain and maintaining them would create challenges, describing one "interesting" January day.
"It was a very nice day when we left, but it soon turned out to be not so nice," says Flavelle, recalling he went up with a colleague on a Bombardier machine.
After making it to the antennas and knocking off all of the ice — ice preventing any type of effective transmission — they turned around to come back down, he says, but the snowmobile's rubber track came off.
"We spent three and a half hours up on the mountain in the blowing snow… trying to get this track back on.
"We ended up having to cut down a tree to pry the track back on the sled," he says.
Current VCTV Station Manager Gord Peters also thanked everyone for coming out, and said a few words on behalf of the current operation.
"It's fun to know you're standing on the shoulders of pioneers… or pirates," says Peters, jokingly.
"It just shows you what a group of committed people can do when they're told there are no options. They say, 'Okay, we'll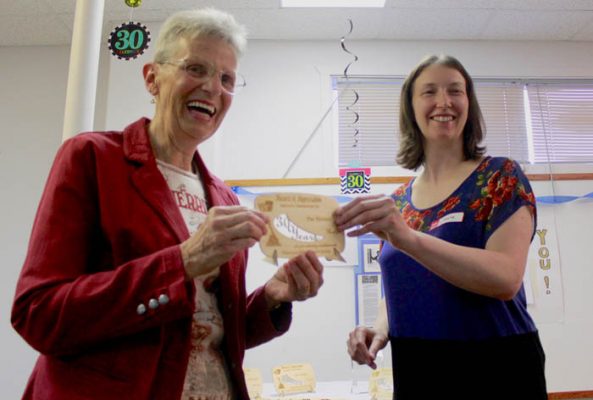 just do it ourselves and we'll make it work,'" he says.
Community television stations are rare at this point, and VCTV is one of only seven remaining in English-speaking Canada. The station rebroadcasts eight channels, plus radio stations, and is run by VES, which is a tax-funded organization.
The regional district provides funding to VES via a tax assessment of $29.11 per $100,000 of assessed property value annually ($2.43 monthly), which helps to fund and operate VCTV, too.
After watching VCTV's 2016 Year in Review, Flavelle stood with VES board member Laura Keil to cut the cake.
"Big pieces for everyone, right?" he asked, laughing.
VES' past presidents include Ray Flavelle, Tom Fish, Cindy Mitchell, Pat Bennett, Dan Kenkel and Darryl Polyk.
Founding members of VES include Karen Anderson, Melvin Ballard, Nick Balon, Chuck Barnes, Ralph Bauer, Bob Beeson, Willis Blackman, Don Burkhardt, Robert Chouinard, Ray Flavelle, Glen A. Cullium, Steve Froescul, Dave Gee, Evelyn Hart, Stanley Hovde, Paul Johnson, Randy Kerik, Alfred Larochelle, Ralph Lebans, David Maclean, Jack Neale, R. Nancekivell, Jim Petrie, Ron Recchi, Gerald Ross, Gordon Still and Arnold Wied.
Editor's note: In the(8.17) edition of The Goat, we published a story about the Valemount Entertainment Society and Valemount Community Television called VCTV and VES celebrate 25 and 30 years. The story contained an incorrect detail regarding Valemount first getting TV in 1978. The story — which has been corrected in the above version — should have said CBC was the only TV channel available in Valemount from the late 60s until the late 70s, and in 1978 Valemount began locally rebroadcasting channels for the first time. We apologize for the error.