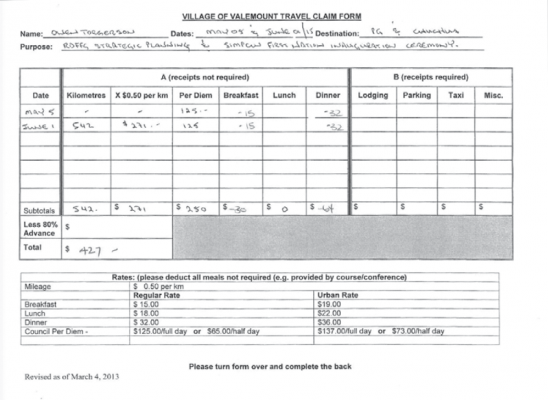 by EVAN MATTHEWS
Mayor of Valemount Jeannette Townsend continues to defend the fact that Mayor and Council's Travel Claim forms are no longer public and insists the expenses are as public as they've ever been.
At the Feb. 14 Council meeting, a letter addressed to Council from Grace Schmitke, references The Goat's 2016 Year in Review article where we reported Council decided mayor and council's travel claims would no longer be public.
At the meeting, Townsend said some of the comments in Schmitke's letter were inaccurate, and suggested inaccuracies in The Goat's reporting. Council received Schmitke's letter for informational purposes and opted to draft a response to her.
"(The Goat) incorrectly reported 'Mayor and staff travel claims would no longer be public,'" the Village's reply to Schmitke reads.
"Although the travel claim forms no longer form part of the council agenda, the amounts claimed by Mayor and Council are still provided to the public in the Accounts Payable Report, which are included in the council agendas," the Village's reply reads, in part.
The Mayor accurately states travel expenses are still public via the monthly Accounts Payable Report and the Annual Report, which are available on Council agendas. The breakdown of expenses provided by the travel claims forms, however, is no longer public, which the Goat accurately reported.
On January's Accounts Payable Report, there is one line per Mayor and Councillor for UBCM expenses labeled as "Accommodation," totaling $5,689, or roughly $1,137.80 per council member for each of their trips to Vancouver.
However, what each member of Council spent his or her $1,137.80 on remains unclear, as the Travel Claim Forms — the detailed breakdown of expenditures — are no longer available to the public.
The Goat brought this fact to light in an article last year where we reported that Council would be removing travel claim forms from the public portion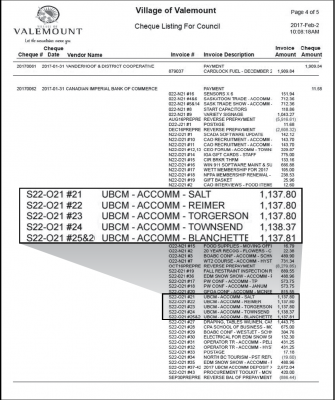 of Council Agendas.
Our article was based on a report written by the Village of Valemount's Director of Finance Lori McNee, which came to Council at the Dec. 8 and Dec. 10, 2015, and Jan 12, 2016 meetings, and whose recommendations were passed by Council.
The report reads: "Council approved a 2% COLA (cost of living adjustment) to the 2016 Council remunerations and to remove the following as part of the 1st and 2nd reading of Bylaw 747, 2015: 9.2 'Council members shall submit a brief written report summarizing related activities, including a completed Travel Claim Form, in a regular Council agenda, when requesting reimbursement for expenses incurred.'"
After this was given final reading in January 2016, Mayor and Council were no longer responsible for publicly providing detailed breakdowns of travel expenses — Travel Claim forms — as illustrated in the images with this article.
Mayor and Council still submit Travel Claim Forms to Village staff. The bylaw reads: "Council members shall submit a completed Travel Claim Form, including receipts or other documentation of expenses and evidence of payment when requesting reimbursement for expenses incurred in accordance with sections 5.1, 5.2, 5.3, 6.1, and 7.1 of this bylaw."