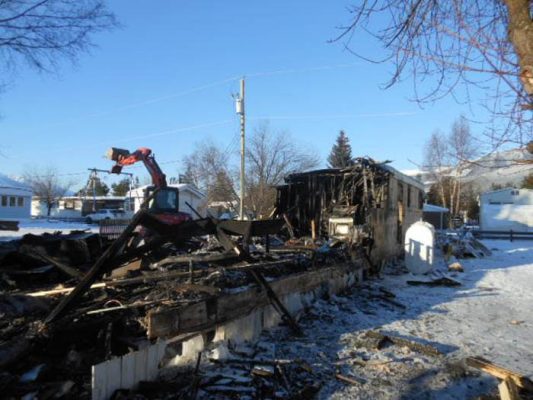 During the holiday season, Valemount's community is showing the true meaning of the season in various ways.
After a tragic and fatal fire that decimated the Meek- Olson family home, the community has rallied with donations and support for the family.
Regan Lewis is the most recent example of the community supporting Clint Meek, Allison Olson and their children Samara and Landon after the fire that left Clint and Landon badly burned and took the life of 16-month-old Dominic.
In the days following the fire, Lewis showed up at the Meek-Olson home with his excavator to help clear debris, according to Darren Heaps, Meek's brother.
"Initially it was just Amanda Smith and I, and my chainsaw," says Heaps.
Heaps says he spent three hours on the chainsaw to start things off. He says they started on Monday, Dec. 12 — six days after the fire — by knocking the ceiling down to the floor, with the intention of continuing on Tuesday, Dec. 13.
"You should see (Smith) go," says Heaps. "She was pulling stuff off that trailer I couldn't even lift.
"It was very therapeutic for both of us, in a way, because it was just something we had to do," he says.
But on Tuesday night, Heaps says he got a call from Smith. Her father had mentioned the tear-down to a friend of his, Regan Lewis, who owns an excavator — and he was willing to help.
Having lived in Valemount all his life, Lewis says he knows the Meek- Olson family personally, and he had to do something to help.
"I didn't know if they had insurance or whatever, I just wanted to help them," says Lewis.
"It's affected me personally, for sure. We look at them like our own family; it's a small community," he says.
Lewis donated his time, his fuel, and his resources in order to get the job done, according to Heaps, and his actions "wowed" the family.
Lewis showed up on Tuesday with his excavator, according to Heaps, and by 3 PM the trailer had been essentially torn down and organized into piles based on material such as tin, wood, plastic, etc.
Further pointing to Valemount's small, family-oriented community, Lewis says Bob Griffin deserves a lot of credit, too.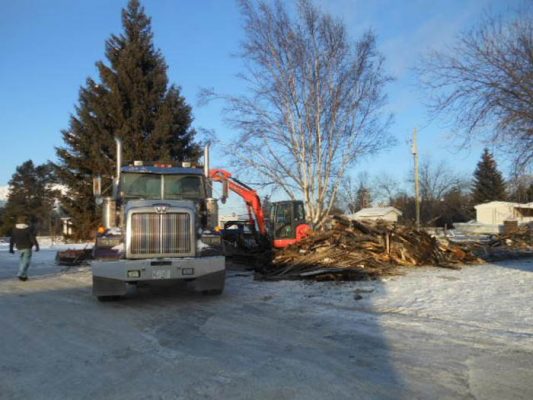 When Lewis called Griffin and told him about his plan to clear the property, Griffin also offered to donate a dump truck for the afternoon to make hauling away the debris easier.
In addition, Robert Van Haaften, owner of Valemount Mini Storage, offered a free storage unit to the family in order to store donations until such a time that the family can go through them.
The continued support from the community has been a silver lining in what has been a "truly horrible experience," Heaps says.
The one problem the Meek-Olson family is still dealing with, according to Heaps, is trying to find a new spot for the family to live. Ideally, he says they're looking for a rent-to-own situation, but they're currently examining any and all options.
Clint and Landon are still in hospital, according to Heaps, saying Allison, has gone to Vancouver to be with Clint and Landon. Given the family is focusing on recovery, Heaps says the family still has a bit of time to find suitable housing.
"We lost Dominic, but the family is still here and they need a place to live," says Heaps.
Clint is going to be in the hospital for a while yet, Heaps says, as he was supposed to have skin grafting surgery on Wednesday Dec. 14, but it was pushed back by a week.
Landon has been described by Heaps as lethargic throughout his recovery, and though he won't need skin grafts, he has been through a number of burn baths, called hydrotherapy.
"We lost Dominic, but the family is still here and they need a place to live," — Darren Heaps, Clint Meek's brother
Hydrotherapy is the use of warm water both during immersion in a tub and in showers with running water, provided these procedures contribute to the healing process of a burn injury, according to The Euro-Mediterranean Council for Burns and Fire Disasters (MBC).
The baths are intended for the debridement or removal of eschar — a dry, dark scab or falling away of dead skin.
Dealing with some of his own PTSD, Heaps says he's been speaking with a local trauma counsellor since the event.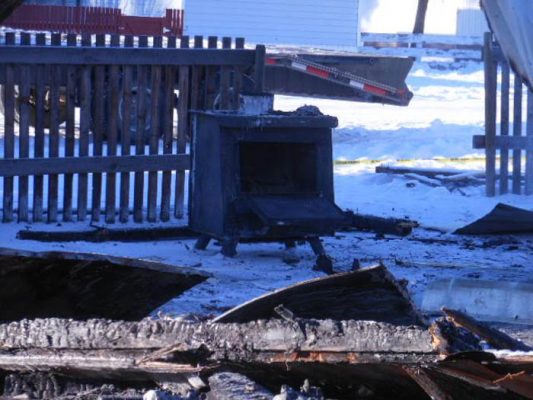 "Certain images I just can't get out of my mind," says Heaps. "I close my eyes and see things from that night… Nobody can sleep at night. No one is going to forget."
Donations for the Meek- Olson family are being accepted through a CIBC account and GoFundMe pages, or by contacting Allison's sister, Alicia Olson, directly.