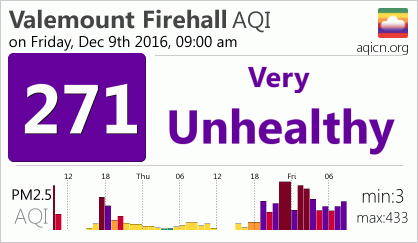 by LAURA KEIL
An air quality advisory remains in effect for Valemount, despite efforts to reduce wood smoke by a major property owner burning slash.
On Wednesday, the Village of Valemount revoked the Burning Permit for a slash burning operation in Village limits, but particulate levels have remained high.
Cold temperatures have also led homeowners to crank their stoves while a high pressure system keeps the smoke hovering over the village.
The air quality advisory has been in effect since Wednesday. Northern Health and the Ministry of Environment made the call after particulate concentrations were around nine times the BC air quality objective.
The advisory says people with chronic medical conditions should postpone strenuous exercise until the advisory is lifted. Staying indoors and in air conditioned spaces helps to reduce fine particulate exposure. Exposure is particularly a concern for infants, the elderly and those who have diabetes, and lung or heart disease.
See our last story here.
See the current air quality reading here.