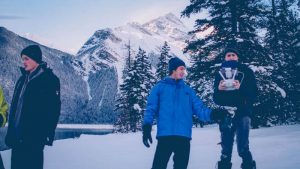 by EVAN MATTHEWS
Eric Wilson is no mutant, so he was in disbelief when the X-Men came calling.
Wilson, the St. Albert resident and chief pilot for Smart Drones, says his company, Smart Drones, was initially a company brought in on property law cases as a consultant, but is now a video and technology company operating in three main areas: The movie business, legal and evidentiary video services, and 3D modeling and volumetric services.
Smart Drones' success is just a modern twist on an old story, according to Wilson, a movie star being discovered at the local mall, or at a B.C. Lions game.
"We just made a video and put it on the Internet," says Wilson. "A couple weeks later, we got a call from an Assistant Editor at 20th Century Fox."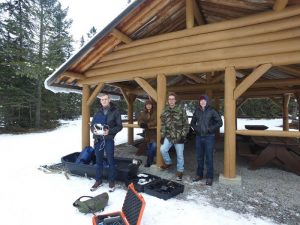 The video was simply stock footage a drone had shot while flying over the Rocky Mountains.
The editor liked Smart Drones' footage, and he soon asked if the company would license the footage for Hollywood purposes, Wilson says.
"We thought it was a joke at first, like, it just didn't add up. We didn't believe it," says Wilson. "He explained to us that  they (20th Century Fox) was just looking for some mountain footage."
Within a few weeks, Smart Drones was contacted by the Academy Award winning Visual Effects Designer of X-Men: Apocalypse, and many of the Star Wars films, John Dykstra.
Dykstra spent hours speaking to Wilson over the phone describing the environment he was looking for: High precipitous mountains with peaks in every direction, and weather conditions involving heavy snow fall, but no freezing on the lake — Kinney Lake.
"It was awfully hard to get the timing right," says Wilson. "As soon as we… saw the view of Kinney Lake, we knew it was exactly where we should be filming the scene.
"The north end of the lake is the perfect spot to put a CGI dam into the environment," he says.
The footage used in the X-Men film is edited versions of what the Smart Drones' crew shot in Mount Robson Provincial Park, Wilson says. Mount Robson can be seen in the trailer at the 1:55 marker.
The crew did a great job of staying non-invasive, and being respectful of the ecosystems within the park, according to Wayne Van Velzen, area supervisor for Mount Robson Park.
"It was extremely low key," says Van Velzen. "No sets, no actors. It was a three-person team walking up the trail in snowy conditions. The impact was really non-existent. They didn't go anywhere where we don't have a hardened trail system."
The hike to Kinney Lake, although not so treacherous for an average person, was not easy for the crew, Wilson says.
"We had over 200 lbs. in drone equipment, and all our support gear," says Wilson. "We'd have three or four guys at the front with ropes pulling these things in a big toboggan."
The ninth installment of the X-Men series was released on May 27, and has brought in over $500 million worldwide.