by EVAN MATTHEWS
A three-hour commute, a lowly temperature of 10 C nor a constant downpour could stop kids from Valemount and McBride from getting down and dirty.
"I liked the down and dirty part (of the course)," says Abigail Cinnamon, a student at Valemount Elementary.
On June 16, the seventh graders from McBride, and Valemount Elementary School's Grades 4 and 5 went to Prince George to take part in the first annual Little Mudder Challenge, which had over 400 kids participate.
"We were fortunate to be a part of it," says Dustin Winzer, a teacher in Valemount. "We've been jogging once a week (for training), just the Big Foot Trail, rain or shine."
The obstacle course, located at Otway Nordic Ski Club, included 10 challenges, and was a total of 5.7 km. Challenges included a medicine ball carry, mud pits and hurdles, which the kids spent roughly a month training for, they say.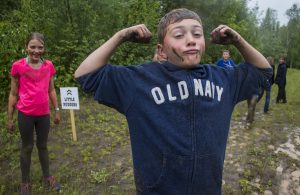 "It was tough," says Stewart Jerome, a Grade 5 Valemount Elementary student. "It got pretty challenging," he says.
The Valemount and McBride kids took roughly an hour to complete the course.
Partnerships between School District 57, the Aboriginal Education Department, Canadian Tire, Jump Start and Save-on-Foods allowed additional funding, so all the bussing was paid for, according to John Giannisis, who works with the Aboriginal Education Department and who spearheaded the event. The Valemount and McBride kids were able to participate for free.