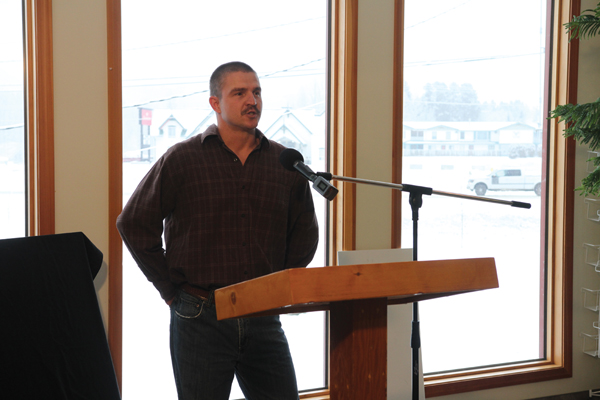 by KORIE MARSHALL
The Valemount Community Forest held its annual general meeting on April 18th, showing less earnings than last year because of the loss of the beetle-kill uplift, but still a very positive and busy year with total net earnings of $291,000.
Craig Pryor, manager of VCF, gave an overview of 2015, calling it another very positive and busy year. He noted the $1.5 million purchase of a forest licence from Carrier Lumber, which was surrendered and turned into another community forest license. He says VCF's existing license is 33,000 cubic meters a year, and the new one is for an additional 35,000 cubic meters.
There's also a small volume license agreement of 2,300 cubic meters per year (to be harvested mostly in Carrier Lumber's operating areas in the Robson Valley), which tops up the new community forest license volume to the total purchased from Carrier.
That brings the VCF's total cut per year to about 70,000 cubic meters. Pryor says he'd be happier with around 100,000, closer to the volume the VCF has had over the previous 5 years or so, but he's still trying different avenues to access more volume.
VCF harvested 62,000 cubic meters during 2015, down from the 102,000 harvested in 2014. Pryor says they targeted the last of the mountain pine beetle-killed pine stands, which made for more difficult and expensive logging and road building.
Over 500 hectares of plantations were surveyed to ensure they meet government standards, and Pryor says they are pleased with the positive results. They've also started a new forest inventory on the original community forest license, at a cost of $180,000.
Pryor says the new inventory should be complete in June, in time for a new timber supply review which is due in August this year. He says he's also excited about the aerial photos of the forest included with the new inventory that will help give a better sense of what is there.
Pryor noted the memorandum of understanding signed with Valemount Glacier Destinations, including road building and planned logging this summer in the proposed resort area. VCF is also planning in June to harvest the volume they've purchased down the East Canoe from BC Timber Sales. He says the sale has a nice mix of tree species with a total volume of 33,000 cubic meters, and it will bring about $1.5 million into the Valemount economy.
Valemount Council re-appointed the same board for the upcoming term: Gordon Carson, Ainslie Jackman, John McGuire, Vern Michelson, and Gerry Piper, with Councillors Owen Torgerson and Peter Reimer again representing Council, and CAO Mark Macneill representing Valemount staff.