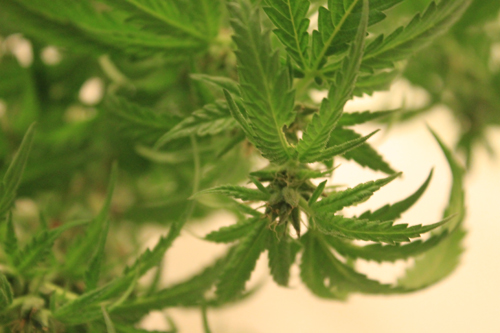 by KORIE MARSHALL
In March 2014, a federal court granted an injunction that allowed patients to continue to grow their own marijuana while a case was tried that claimed the government's new rules about medical marijuana violated patients' Charter rights. Last month, that case against the government was won.
For years, registered patients had been allowed to grow their own marijuana or have a designated person grow it for them. In 2013, the federal government introduced new regulations that would require patients to purchase only from federally-licensed commercial producers, and a new industry has since sprung up in Canada, to fill that need. The new regulations ran concurrently with the old until a deadline of March 31st, 2014. But a group of BC residents launched a court case against the new rules, claiming they violated a patient's Charter rights to life, liberty and security of person.
One Robson Valley resident the Goat spoke to in 2014 told us he used marijuana to treat post traumatic stress disorder (PTSD) symptoms, as well as stress which aggravates another medical condition. He told us he was considering risking his personal freedom by going "underground" with his grow-op because. He didn't want to give up a very specific strain he was growing for his particular symptoms, and couldn't afford an increase in the cost, especially after what he has already invested in his system, and he knew others in the area in the same position.
On Feb. 24th, 2016, Judge Michael Phelan ruled the new Marijuana for Medical Purposes Regulations were an infringement on charter rights, and declared them invalid, but suspended the declaration for six months, giving the federal government time to come up with new regulations.
Phelan also agreed that marijuana can be produced at home safely and securely, with limited risk to public safety. He dismissed the federal government's arguments about the risks home grow-ops could pose to homes, nothing issues like mould, fire, break-ins and insurance concerns can be addressed within existing laws and regulations.
After the decision, lawyer Kirk Tousaw who helped represent the Neil Allard who launched the court challenge was quoted on CBC saying the ruling will have implications for those who wish to grow their own pot for recreational use.
The federal Liberal party, under Prime Minister Justin Trudeau, has promised to legalize and regulate marijuana, restrict its access to minors and bring in stronger laws to punish those who operate a motor vehicle while under its influence.
The new federal government, elected in November 2015, now has until mid-August to change its laws about medical marijuana. The injunction allowing about 28,000 previously licensed Canadians to continue growing their own marijuana is still in effect.