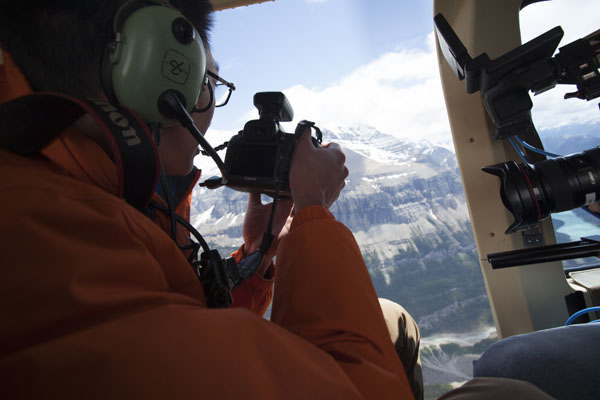 by ROSS BALLARD
Photos courtesy Corbel 3D
Have you ever wanted an exact scale model of Mt. Robson in your living room? Me too!
This may actually be a possibility in the future thanks to the work of some very smart individuals who specialize in the industry of 3D scanning and printing. 3D scanning is done by aligning over a hundred cameras to shoot every angle of a person or object all at once. This data is entered into a computer to find exact surface geometry; artists can then create a 3D printing program for a variety of machines which print dozens of different materials. So whether something is scanned or designed on a computer engineers, architects and inventors end up with an exact copy of their design. Once a concept is approved printing machines will produce the parts and pieces for the real product. 3D printing is used for producing everything from engine parts to erotic toys and in recent years it has been used for some truly amazing things. Doctors are now using this process to create 3D models of patients CAT scans. Having an exact copy of someone's broken hip bone or their liver makes providing information much easier and gives doctors a serious advantage in giving proper treatment.
Last summer the brilliant team at Corbel 3D took the realm of environmental scanning to new heights by successfully completing a scan of the monarch of the Rockies. Mt. Robson reaches 3,954 meters into the sky and dominates the surrounding area with its huge mass. On June 21st the team met up with their pilot at Robson Helimagic. With early morning cloud on the summit they had ample time to make a flight plan. Having only one and a half hours of flight time and ten square kilometers to cover, proper planning was critical. The gear consisted of a GPS receiver attached to a DSLR camera. The GPS records the exact location of every photo taken so they can be put together creating a 3D image; this process is called photogrammetry. The team planned an eight loop flight around the mountain at various altitudes. Project director Patrick Wirt wrote to me that the highest they had flown was around 4300 meters. Although they were not affected by the altitude, the doors-off Long Ranger helicopter offered no respite from the high speed wind chill and their bare hands were numb using the large camera. Flying over the stunning peak the team took over lapping photos of every feature. Back at home base in Vancouver they would be pieced together in the digital environment to create an exact scale model of the highest peak in the Canadian Rockies. Wirt told me there are no current plans to display the model, but he may speak with the people at B.C Parks to put the display at the Mt. Robson visitor center. This climber is hopeful!
The entire process was captured by the Discovery channel's Daily Planet for a feature called "Anything for the Shot" and was aired in October of 2015.
The miniature Mt. Robson can be viewed on youtube under the heading "Mt. Robson 3D printed model."