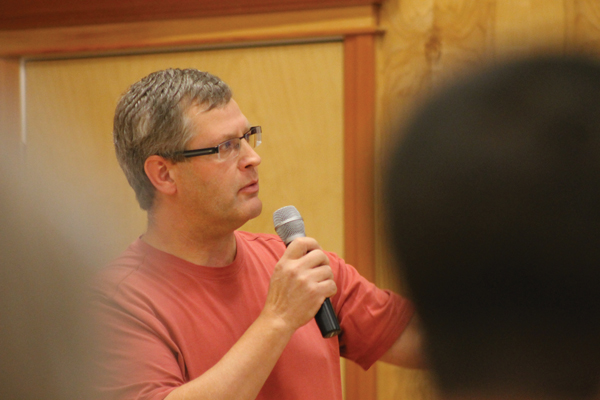 by KORIE MARSHALL
About 60 residents attended a public meeting on Jan. 21st to learn some updates on the McBride Community Forest Corporation and for an open question and answer session. Board members and consultants for the MCFC shared information including fines paid in late 2015 for past charges for logging in riparian and old growth management areas, as well as plans for logging about 40,000 cubic meters in 2016.
The meeting was led by Susan Mulkey of the BC Community Forest Association, who was brought in by the MCFC's board (currently McBride Council members) to help evaluate and improve the governance of the community forest. Information was also presented by Jeff McWilliams of B.A. Blackwell, hired to review operations, and by Mayor Loranne Martin.
Interim investigation results
McWilliams says B.A. Blackwell has been busy working on operations issues and harvesting plans, so the original review of operations they were hired for is still not complete. Some good practices they've found so far are the MCFC has been doing prompt planting and good reforestation work. Entries in the RESULTS database (a government tracking system for silviculture activities and obligations) are now compliant up to the end of 2014, which is the most recent deadline for reporting. The 2012 audit of MCFC by the Forest Practices Board had found the RESULTS submissions were not up to date.
Under non-compliant and poor practices, at the top of the list was the overcut. For the three years from 2012 to 2014, the MCFC cut 231,583 cubic meters – 54 per cent more than the 150,000 cubic meters they were allowed. McWilliams says they've verified a waste assessment of 23,298 cubic meters in 2013, less than the 35,000 he had estimated in the fall, but still considerable. When asked why the waste was so high in 2013, McWilliams said he thinks the waste surveys were behind schedule, and much of that was actually waste from the logging in 2012, when 106,546 cubic meters (more than double the annual allowable cut) was harvested. McWilliams estimated that the overcut over those three years could have translated to about $80,000 in fines and additional fees from the province, but an exemption has been granted.
Though still in compliance, the MCFC's Forest Stewardship Plan expired in March 2013, which McWilliams calls a poor planning practice. He says an amendment to the plan was in progress, but was never completed or approved by government.
Another poor practice is that the MCFC currently has multiple harvest blocks over 60 hectares, and no documented rationale for the large blocks can be found. Ron Hammerstedt, one of the authors of the original management plan for the MCFC attended the meeting by Skype and asked what stand types the large blocks were. McWilliams said they are mixed species types, primarily in the ICH (Interior Cedar-Hemlock forest). Hammerstedt said larger blocks should normally be outside of the ICH, according to the province's biodiversity guidebook.
McWilliams also noted that the misclassification of streams (which resulted in cutting in riparian reserve zones) and issues with contract supervision (including no documentation of pre-work meetings for harvesting contracts) were poor practices which left the MCFC open to fines and liability issues.
Operations update
McWilliams also reviewed the MCFC's annual allowable cut going forward. The 5-year cut has been restarted from the beginning of 2015, but the overcut from the last three years still needs to be taken off MCFC's volume, cutting the total volume over the next 5 years from 250,000 to about 168,400 cubic meters. That means an average of about 33,680 cubic meters can be harvested each year, but 55,000 was already cut in 2015, mostly before the overcut situation was discovered and logging halted in September. They are aiming to log around 40,000 cubic meters in 2016, which will leave under 25,000 to be cut in each of the three remaining years, 2017-2019. McWilliams says they've been put on notice that although the Grade 4 exemption for cedar was granted for 2015, it may not be granted for 2016 and is uncertain going forward.
Seedlings are generally ordered two years in advance in anticipation of the coming cut. McWilliams says the MCFC has an excess of seedlings right now – about 140,000 more ready this spring than they will need, or about $50,000 worth. He says they are looking to see if they can be sold.
Logging operations this year
Block 31 (Goat River) was started after Christmas, and is expected to be finished by breakup. They expect to harvest about 15,000 cubic meters of almost pure cedar, primarily to meet obligations under their contract with BKB Cedar. The whitewood will be sold to Carrier. He says MCFC expects to lose $50,000 to $80,000 on this block.
Typical harvesting costs in the McBride area are about $48 per cubic metre, but most cedar in the area is only Grade 4, which sells for about $35 per cubic meter. McWilliams says the corporation can profit off whitewood and cedar sawlogs in the same block, but there is less in this particular block. "On an annual basis the goal is to balance out the need to generate Grade 4 cedar for the local mills that depend on this supply while maintaining a healthy bottom line for the corporation by logging adequate components of better timber," said McWilliams in an emailed response.
Block 2 (Bell Mountain) is expected to provide around 20,000 cubic meters of whitewood (no cedar), and will complete a partially logged block. It is 82 hectares, so a large block analysis has been done. It's been developed to supplement revenues and allow MCFC to benefit from continuing to plow the Bell Mt road to the cross-country ski parking lot. McWilliams says they advertised an expression of interest (EOI) and received only one response so they negotiated a logging contract with Crazy Horse Logging. MCFC will sell the whitewood to Carrier, and they expect profits of around $325,000.
Block 23 (Crescent Spur) is ongoing from 2015 and will complete a partially logged block. A large block analysis was also done before planning was finalized, and they expect to recover about 6,000 cubic meters of mixed species, which will continue a small market logging agreement with Warren MacLennan.
Ongoing investigations
McWilliams says the province's investigation of MCFC's self-reported cutting of a riparian zone in Block 28 in September 2015 is ongoing and will continue into 2016. He says there was another incident in November where they failed to adequately protect stream banks during the deactivation of a temporary access structure. MCFC carried out remediation work in December and will seed exposed soil in the spring, followed by a re-inspection by the province's Compliance and Enforcement branch. McWilliams says MCFC paid fines totalling $11,500 in the 4th quarter of 2015 as a result of past charges for logging in riparian and old growth management areas (OGMAs).
The advisory committee set up specifically to review the potential deal with Carrier Lumber met for the first time on Jan. 20th, says McWilliams. Mulkey says there was a good collaborative attitude and lots of local knowledge in the meeting. McWilliams says they expect to make a recommendation by March 31st or earlier. When asked if Carrier would wait that long, McWilliams says he's been trying to reach Terry Kuzma (of Carrier) who has been busy finalizing their deal with the Valemount Community Forest.
"We don't know what Carrier thinks of any of this," said McWilliams.
Corporate issues
Mayor Martin said the interim board has recognized there had been a lack of oversight over operations within the MCFC, and a lack of reporting to the shareholder (the Village), which they hope to remedy with a proper shareholder agreement. One of the board's early goals was to look at changing the structure of the board, "but things got complicated really quickly," says Martin.
On Dec. 4th 2015, Martin says the board was notified that the tax exempt status of the Community Forest Corporation was being challenged by the Ministry of Finance, and that MCFC had not filed its 2014 logging tax return as required. The ministry is requesting the MCFC revise their tax returns for 2012-2015 to show income. Martin says the board is challenging the ministry's opinion, as it not only affects tax implications for MCFC, but numerous community forests around the province that are structured in the same manner. She says they've engaged KPMG as their auditors to assist with this. If MCFC is not successful with challenging the ministry on this, one suggestion that has come up is to restructure the corporation to ensure it is tax exempt.
They've also received information from the Ministry of Community, Sport and Cultural Development that the articles of incorporation need to be updated. Mulkey added that there is not a consistent interpretation across the province, but a move to a limited company, where the profits would be paid to the shareholder and then taxed (the municipality, as the only shareholder, would be tax exempt), is something to consider.
"There is a lot to think about, and it takes some time," says Mulkey.
Martin says the board will also be looking at hiring a new GM in the near future, and the new position will be based on performance measurements.
Governance and survey
At the last public meeting in the fall which attracted around 80 people, surveys intended to help address governance issues were handed out, but only 18 were returned, said Mulkey. She has another survey available until Feb. 11th, which is even more detailed, and is based on responses to the first survey and the original concept paper for McBride Community Forest. This new survey asks if community members agree with the proposed definition of the community served, the "purpose" of the MCFC proposed for the articles of incorporation, the guiding principles taken from the concept paper, and the composition and process for electing board members. Mulkey is asking that if you don't agree with the statements, you provide an alternative or clarify what you don't agree with.
The survey statements rely heavily on the original concept paper and proposal, says Mulkey, because that was the last time there was broad community support for the Community Forest. The survey highlights quotes from the concept paper, including "… the Village does not propose to control the community forest. The Mayor and Council of the Village of McBride wished to only be an active member of the community based board that will direct the activities of the community forest." Hammerstedt agreed that broad community representation was originally intended for the board.
The MCFC board scrapped elections in 2011 in favour of the Village appointing directors, after low interest in the election process. The board also received legal advice that suggested an appointment process because it would keep the Village in control of the community forest.
"When you have an election process, then it becomes confusing. Are you representing the people that elected you or are you acting on behalf of the corporation?" Rick Thompson, then-chair of MCFC told the Goat in 2011.
The printed surveys don't ask for your name, but at the request of some audience members, Mulkey agreed to discard any surveys with no name on them. Completed surveys can be dropped off at the MCFC office or mailed to Susan Mulkey at Box 1303, Kaslo BC V0G 1M0, by Feb. 11th 2016.