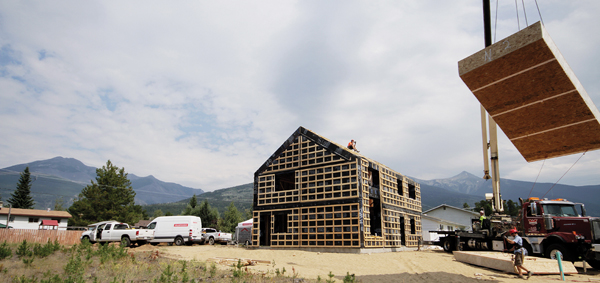 by KORIE MARSHALL
Making a house airtight is the easiest and cheapest way to make it more energy efficient, says builder Erik Olofsson. But a house that is completely air-tight will start to feel like it's smothering you. That is why he is installing an air exchange system in a house he is currently building.
That air exchange system seems to be the most controversial aspect of a rather unique house he is building for couple Andru McCracken and Laura Keil, one Olofsson hopes will be a certified Passive House – one of the furthest north yet built in North America (there is another in Fort St. John and one under construction in Smithers).
The couple and Olofsson hosted an open-house in late December so locals could have a look at the inside structure before the finishing happens. There are some interesting features in the house, like some specially designed windows – all triple glazed, and filled with specific gasses, depending on which side of the house they are designed for. In early January, with a temperature of -8 Celsius outside and only one small heater inside, the room temperature is +12. Olofsson says when it was getting down to -25 over Christmas, and the heater wasn't on, the house was still only dropping to about +5 degrees. He says that will get warmer, once the concrete slab warms up.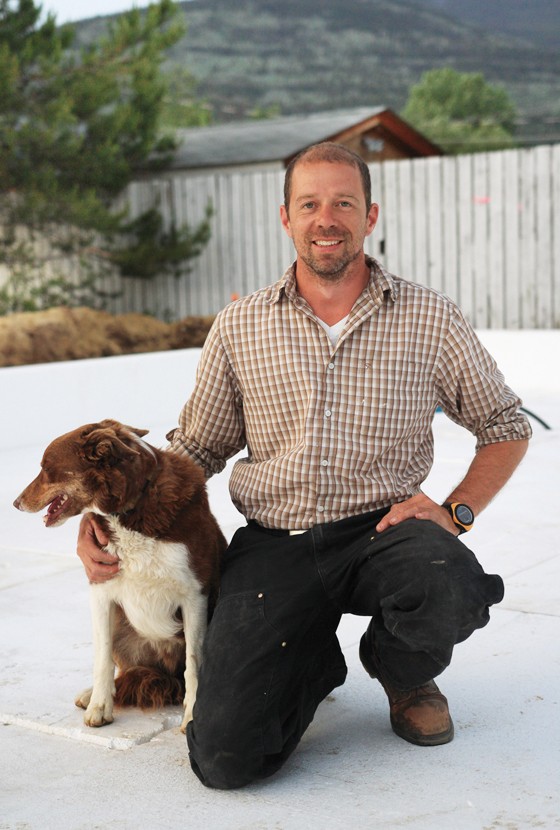 Once warm, the house will stay warm, because of the really thick walls, another interesting feature. They are two feet – a full 24 inches – thick. They are designed to try to minimize the heat lost by radiation through the various building materials, and have to be that thick because of our cold climate. Another private company heard about the house, and has installed thousands of dollars worth of specialized sensors that will live inside the walls for a few years, because they want to know how the walls perform. Olofsson says they are the thickest walls built yet in a house this far north.
There is also a geothermal system; not exactly a heat pump, but it helps boost the effectiveness of the air exchange system, either by pre-warming or pre-cooling the air it brings into the house.
But it is that air exchange system itself that seems to be the least understood.
"People say a house has to breathe," says Olofsson, shaking his head. "The people inside need to breath; the walls don't need to." He says he's actually seen builders install plastic barriers in a home, and then intentionally poke holes in it – defeating the whole purpose of the plastic. The air exchange system gives the inhabitants fresh air, but also exchanges the heat between what is coming in and what is going out.
The house might also be a first in Valemount because it was assembled with a crane from panels Olofsson ordered from another company. He says it's easier to make a house airtight when the walls are prefabricated.
This may all seem rather odd to most North Americans, but the Passive House is quite a common thing in Europe, says Olofsson.
"You need a plan to achieve a high level of performance," says Olofsson, likening it to becoming a high level athlete. You don't just start weight lifting to become a good hockey player; there are a lot of factors to consider, a lot of training to do. The energy model for Passive Houses is that plan. There is software available that helps you design your house, and there are 40,000 houses built using it so far, says Olofsson. People have been tracking how they perform for years.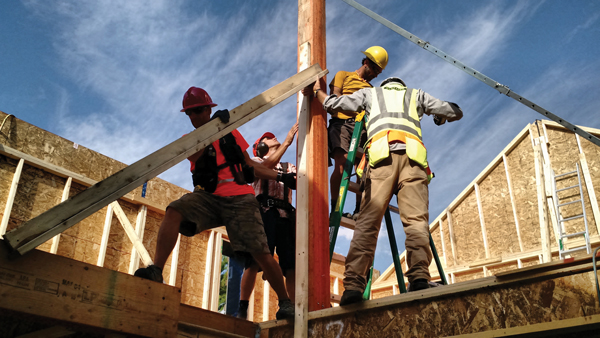 The Passive House energy model is made practical with the use of a massive Excel spread sheet – 80 or so pages. Olofsson says you input all your factors, and the formula will tell you how efficient the building will be, or if there is a risk of overheating.
If designed wrong, overheating is a risk, because a Passive House is designed with large south-facing windows. They will lose some heat, but allow a lot of heat directly from the sun into the house. That is great in the winter, but can make it too hot in the summer. So the formula will tell you what effect the shading from a large roof overhang will do. In McCracken and Keil's house, overhangs are impractical because it is a two story house. But the fact that the windows are recessed into the thick walls provides necessary shading. If it isn't enough, you might try some other things, and you can input them into the formula. The formula will tell what will be effective.
McCracken says he and Keil weren't originally planning to build a house.
"We'd been looking for a house to buy, but we kept seeing someone else's dream home, not ours," said McCracken. And they were concerned about energy efficiency and the long term costs to their pocket book and to the environment.
"This house is the result of a conversation I had with Erik," says McCracken. "I thought a really energy efficient house in our climate would cost a million dollars. He said it wouldn't."
Olofsson says building to Passive House standards is generally only about 10 per cent more expensive than building to code. McCracken says their house might be a bit more expensive than that, but it's because of some special features they wanted, like special spaces for their music, photography and business pursuits. And it means they expect to pay only about $200 in energy bills per year, compared to $2000 or more for a minimum-code house.
McCracken says they held the open house with the hope of inspiring people and local builders about what is possible, and from the responses, they think there is interest. And it is not difficult to do, says Olofsson. He says it was no problem at all getting permits and he had great service from the Village. The windows took longer than they'd hoped, but that is to be expected, as they were specially built and were shipped from Austria. Manufacturers familiar with the Passive House system are primarily in Europe right now, but that could be changing.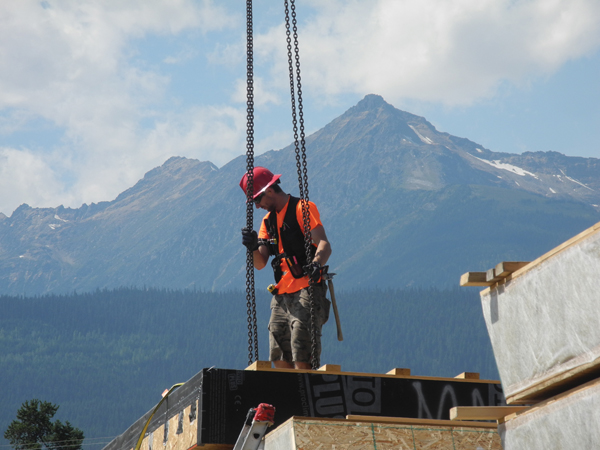 With the windows installed, Olofsson is planning some tests of the home's air-tightness. One test is done by a blower system attached to the door that calculates how much air it pulls out of the house. Another way to test it is to turn the blower around and pressurize the house and fill it with some special testing "smoke" and look for the smoke outside. He's doing that now before the finishes go up. If it passes these tests, it can be certified as a Passive House.
The black siding might also be unique in Valemount – it's actually cedar that has been burnt with a torch and then wetted. The finish keeps out insects and resists rot even more than cedar usually does.
With the windows installed just before Christmas, McCracken and Keil hope to be moving in within a few months.