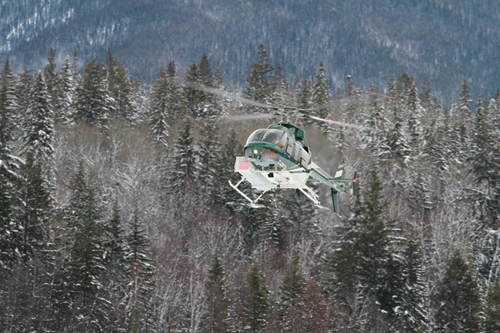 by LAURA KEIL
After yesterday's deadly avalanche that killed five snowmobilers and injured half a dozen more, the Renshaw snowmobile area is temporarily closed.
Five people were killed in an avalanche in the Renshaw area near McBride Friday afternoon.
A member of the off-road vehicle forum Snowandmud.com said the accident occurred "on the big drop" "when you're heading towards Spirit lake."
In the McBride thread on the forum, hundreds of sledders offer their condolences to the families and their thanks to the volunteer search and rescue workers who attended the scene.
Bryce Glionna of Wabamun, AB, was snowmobiling in the Renshaw area last weekend, one of his favourite areas to ride. He said last weekend conditions seemed OK in the lower alpine areas.
"I did however see a couple steep slopes where the snow had let go," he added. "Mostly higher areas where the sun shines on the hill most of the day."
Last weekend, his riding group planned to to where the slide later occurred – but one person had sled problems, so they didn't.
He says the area is popular with sledders due to the vast area.
"It allows for everyone to ride and not usually have to worry about other groups or the problem that the snow is all tracked out. Usually with some exploring you can find snow."
RCMP say they will provide another update after 1pm Saturday.
Read our profile here of a local company trying to spread avalanche awareness among sledders.