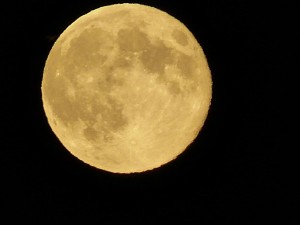 by KORIE MARSHALL
A full moon will rise on Christmas Day this year. It hasn't happened since 1977, and won't happen again until 2034, says NASA.
The December full moon is called the Full Cold Moon in the Farmer's Almanac, because late December nights are the longest in the year. This year, the full moon will reach its fullest point at 5:11 am Central time on Christmas morning. That is just after 3 am here in the Robson Valley, so if it's clear, Santa won't need much light to get his work done
this year.
The shortest day in the northern hemisphere this year will be Dec. 22nd, so if you are getting tired of the days getting shorter, you've got less than a week left. That's also the first day of winter, which is good news for those that enjoy winter sports, but not so good for those who don't like the cold.