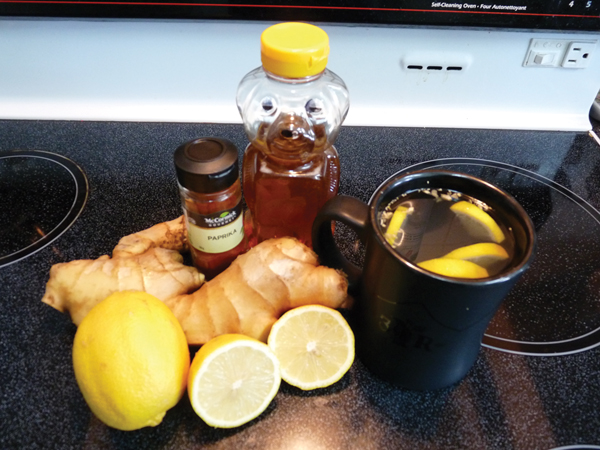 by ROSS BALLARD
Whenever the snow starts falling we all eventually come down with a cold or a case of the sniffles. My go to cold killer has been the same for years, but it was only upon further research that I learned the true benefits of the three main ingredients I use, and the wide variety of health problems they solve.
Honey, Lemon and Ginger tea is something my mother taught me, and is a common cold and flu remedy in many places around the world. Putting water on to boil one simply pours a small amount of honey in a coffee cup. Finely grate the ginger so it can be swallowed easily and using a juicer or a fork, juice one whole lemon into the cup. Add hot water and you've got a tea that can stomp a cold flat. In recent years I have started adding Paprika to my blend because the spice helps you sweat out whatever is ailing you.
Having done some reading on these three super foods I would like to share a few facts about Honey, Lemons and Ginger that may surprise you and will hopefully help you and your family stay healthy and active this winter!
Honey has been used medicinally since the time of the Egyptian Pharaohs and has some truly amazing properties that benefit the entire body. Because of its antibac-terial and antifungal properties honey has been used to soothe burns and disinfect wounds for centuries. In recent years studies have shown vast improvements in patients with wounds and leg ulcers after applying a topical application of honey. Its bacteria fighting qualities and thick consistency make a great cough remedy; a 2011 study found two tea spoons of unpasteurized honey were just as effective as some store bought cough medicines. Honey is a natural substitute for sugar and for outdoor enthusiasts like myself it provides a great energy boost for high output activities. whether stirred into your morning granola or mixed into your water bottle with a little lemon or lime, honey is a natural sweetener that aids in the health of the entire immune system.
If you don't like Lemons you may want to reconsider after reading about the many health benefits of this sour little super fruit. One lemon has the same amount of Vitamin C as eight oranges, and is very rich in flavonoids; which combined make a potent cold killer. They contain 22 anti-cancer compounds including Limonene which slows or halts the growth of cancer in animals. Lemons also contain a substance called Flavonol Glycosides which stops cell division in cancer cells. The juice of one lemon stirred into a glass of warm water in the morning helps with regularity and detoxifies the liver. In addition to improving eye problems linked to diabetes, lemons contain Hesperetin which lowers blood sugar levels (when they are high) Whether squeezed fresh over Greek salad or blended into your favorite smoothie, lemons are a super healthy addition to many drinks and meals.
Ginger is super spice with a whole medicine chest of healing properties. Known in many cultures for its digestive-friendly properties ginger has been used for thousands of years to treat digestive problems and kill colds and fever. Eating ginger vastly improves the absorption and assimilation of essential nutrients in the body; it also clears your microcirculatory channels including the sinuses which can flare up in colder months. If you have problems with air or sea sickness, or have nausea due to flu or post operation sickness minced ginger mixed in a little honey will calm your stomach upset. For those ladies who deal with painful monthly cramps fresh ginger is the perfect way to help calm your tummy and let your stomach muscles relax. The arrival of winter means stiff and sore bones for those of us with joint pain, but ginger with its anti-inflammatory properties can help! A few drops of ginger essential oil in a hot bath will do wonders to relieve sore and ach-ing muscles and joints. Bedroom blues? Some cultures credit ginger with aphrodisiac properties! Whether you chop it into a curry or blend it into a salad dressing or smoothie ginger is a super beneficial spice to help aid in healthy living.
These are just a few of the many health benefits of these three super foods. When combined they make a super natural cold killer that benefits the entire immune system. The lovely ladies at Infinity office and health have a wealth of knowledge on natural medicine and a wonderful selection of teas, herbs, and essential oils to help battle cold and flu and keep you warm and healthy this winter.
This is Ross Ballard wishing you a safe, active and cold free holiday season!