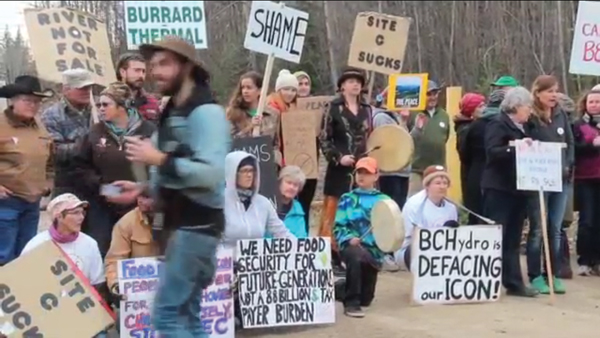 By Korie Marshall
It might have been the magpies along the road that told me I was in the prairies, but the guy I'd heard on the radio Friday afternoon, while driving to Fort St John, really explained it. CBC's Radio West was broadcasting live from the lobby of the Pomeroy Sports Centre, and a long-time listener was there, talking to the hosts. He often submits photos of what he sees, beautiful scenery and animals he comes across in his work in the oil and gas industry. The hosts asked him what he wanted the rest of the province to know about Fort St John, and he said "we're on the east side of the Rockies, so geographically we're in the prairies. But politically we're in BC. The rest of the province just has to realize that we think different up here."
But even he, who has been working in and loving the oil and gas industry, and wants to continue until he retires, is not in favour of Site C.
Some residents of Fort St John, like the City Councillor on the same radio program, want Site C built because they know that if it doesn't go through now, they'll try it again in another 10 years, like they have done for the last four decades. But others are still fighting the dam 40 years later, and some of them have gathered outside the gate on Saturday morning, Oct 17th, two days before the federal election.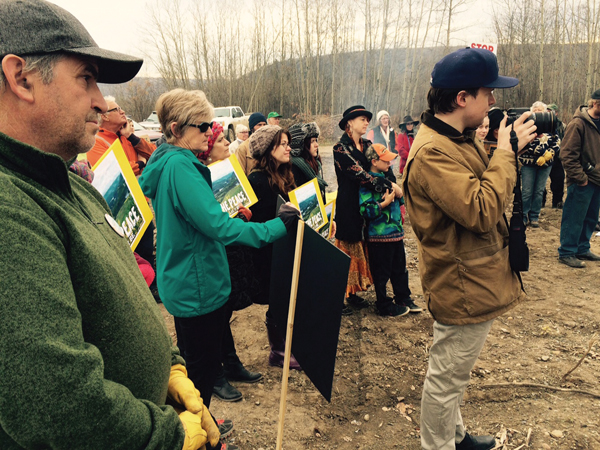 I'd never been to a protest before. Cathy Fortin came from Prince George, and says she is ready to get arrested if it came to that. I don't know if she is joking. Elizabeth Biggar, who has organized this protest, has already been arrested this year for peacefully protesting the Trans Mountain pipeline work on Burnaby Mountain. She is nervous this morning too. I don't want to get arrested, but if it happens because I am peacefully protesting, I'm ok with fighting for my rights. The story that a Site C protester was shot by police earlier this summer in Fort St John bounces around the back of my mind, but I push the thought away.
When we arrive at the gate, Peter is wearing a high-vis vest and introduces himself, not as security, but says his role is to make sure that everyone is safe in protest situations like this. He has a bit of a British accent, says he is from Vancouver, and while he is there on behalf of BC Hydro, he chats with protesters and is friendly. Several protesters tell me they don't trust him.
Liz speaks to two RCMP officers shortly after we arrive, just before 10 am, the official start time. They confirm it is our right to be here, to peacefully protest, but not to block trucks. Some in the crowd ask if we can. Another notes it is all local trucks going through today – the Alberta trucks are parked.
This group of 50 or so people is a community in itself, fighting for a larger community. They are not here to blame the people that are taking jobs on the project; they know many of them are conflicted, and doing it because they need a job.
People have so many different reasons for protesting Site C. Some want to save their home. Some want to save the agricultural land in the valley. Some know we can do better – better electricity, better jobs, better stewardship of our land for our children.
A young boy 11 or 12 tells the crowd "Don't be afraid to use your voice."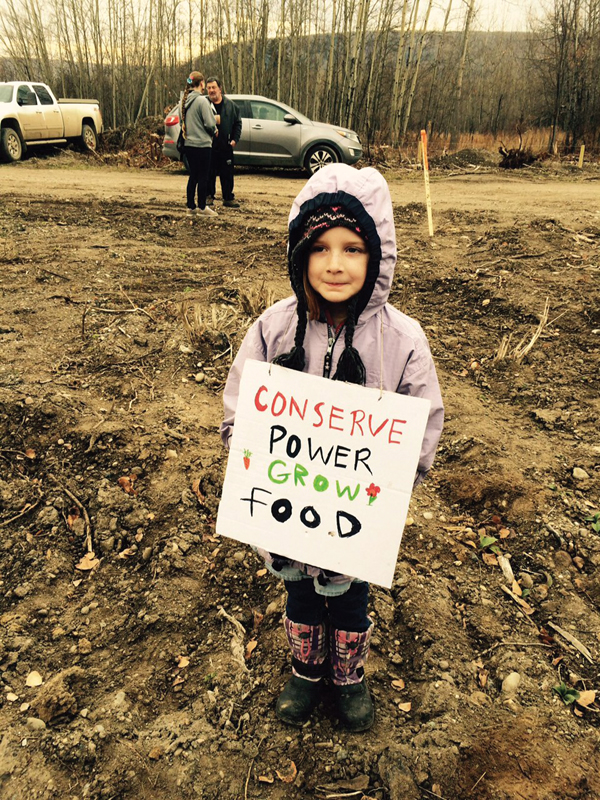 "We can't let this project go through," says Ken Boon. He and his wife Arlene are part of two organizations that have launched legal cases against the province and Site C. They lost them both, but they are appealing one of them.
As Liz speaks, an eagle circles overhead. "A good omen?" Someone wonders later. Someone else replies it is simply an eagle looking for his nest which was cut down yesterday, after BC Hydro promised it would not be.
Verena Hofman starts to cry when talking about this group, the community they've built of people who have been living in the Peace and want to protect the river and the valley, keep it alive. Later she gives me a hug when she realizes I'm not from the Peace, that I've driven from Valemount, eight hours away, because I know the stories, I've seen the pictures of what our valley lost when they flooded it, and I don't want that to happen to another community.
Sage Birley says he used to want to get out of Fort St John, that he felt he was supposed to be a city kid. But he's fallen in love with the Peace, and wants to see market farms and small farms for young people. Arlene just posted a photo on Facebook of the massive beet she's grown in the Peace valley soil this summer – show that to the people who say the north doesn't have good farming.
It is all both heart-wrenching and moving. I want to get to know Fort St John better, but I haven't seen the Peace River yet. The construction gate is down the hill from the city, and I could see the mist over the valley when we arrived, but I can't see the water from here. I decide to drive up to Hudson's Hope. Along the road, there are signs posted on fences, similar to the ones at the protest – "No Site C" and "Site C Sucks."
My first view of the Peace River is from a lookout point high above the river, with a wide view both up and down the valley. It is breathtaking.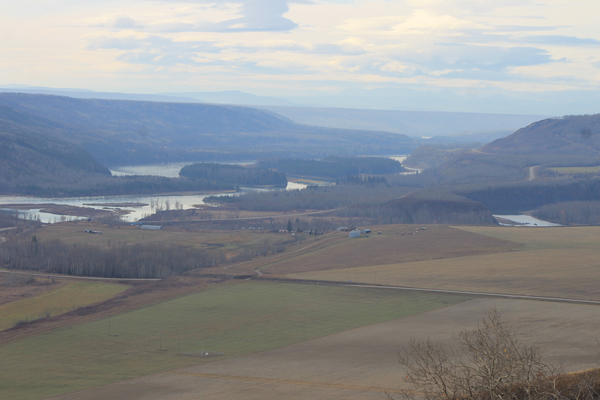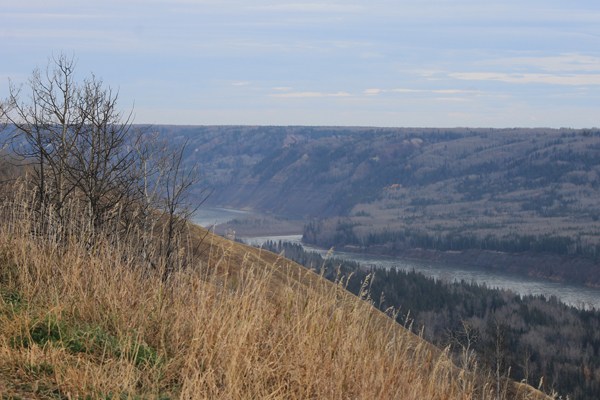 Why would we flood that?
I know the province and the federal government didn't consult the residents of BC or of the Columbia and Canoe Valleys before they built the Mica Dam, creating Kinbasket Reservoir. I am not as familiar with the history of the W.A.C. Bennett Dam that created Williston Reservoir, the first dam on the Peace River. It was completed in 1967, six years before Mica was completed. I don't imagine they asked Peace Valley residents much back then either.
According to a BC Hydro fact sheet, the Site C dam is intended to be 60 meters high, and 1,100 meters wide. It will create a reservoir 83 kilometers long, making the river 2-3 times wider than it is now, and flooding 5,340 hectares of valley bottom.
According to opponents of the dam, that land is Treaty 8 First Nations' hunting, fishing and trapping grounds, fertile agricultural land and farms (the only Class 1 agricultural land north of Quesnel), old growth boreal forest and one of the most important wildlife corridors in the Yellowstone to Yukon migration corridor. Building the dam would flood land equal to 14 Stanley parks and risk landslides as the banks of the reservoir erode over time.
Before issuing approvals last year, the provincial and federal governments set up a panel intended to get feedback and evaluate the project. They held hearings, and brought in experts, and listened to the concerns of residents. They know many people are not in support of the project, for many reasons. But the government has ignored them. They say "here is some money, there is your compensation," to some of the opponents. They say "it will provide cheap power; it's the best option for the province." But the government is ignoring so many other options, even many of their own panel's 50 recommendations, including exploring geothermal power, which even BC Hydro thinks may offer up to 700 megawatts of firm, economic power with low environmental costs. Site C is expected to provide 900 megawatts.
We can do so much better.