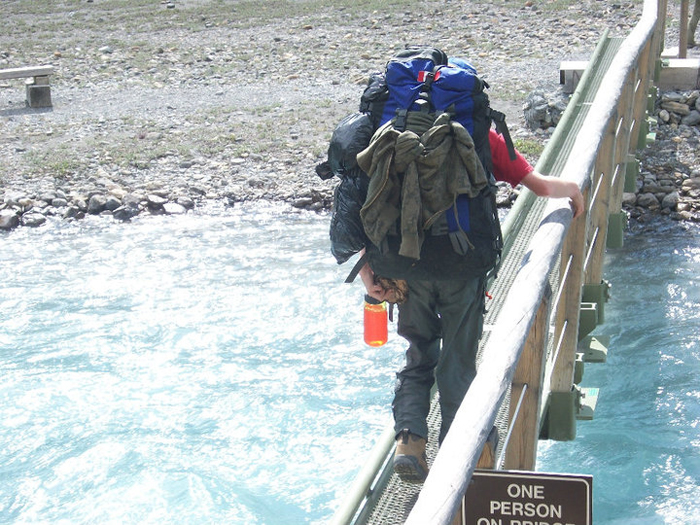 by BOB COVEY
The BC government is selling off the management of the popular Berg Lake Trail in Mount Robson Provincial Park.
Trail maintenance and facility operation of the first 15 kms of the Berg Lake Trail, as well as front country facilities and day use areas in Mount Robson Park, Rearguard Falls Park and Jackman Flats Park are up for tender as British Columbia's Ministry of Environment continues its privatization model of managing its trails, view points, pull-outs and campgrounds via "park facility operators."
BC Parks confirmed the government is looking for proposals "to provide park operations and maintenance services in Mount Robson, Rearguard Falls and Jackman Flats Parks and to provide visitor information counselling and park services at the Mount Robson Visitor Centre."
Front country facilities have for more than 20 years been contracted out to facility operators on behalf of Destination BC, but this will be the first time a contract will bundle the operation of the Mount Robson visitor centre, the aforementioned day use facilities, campgrounds and maintenance of the Berg Lake Trail itself.
A document obtained from the province's BC Bids website describes the terms of the agreement as comprising 10 years.
Currently, BC Park Rangers patrol and maintain the Berg Lake trail. As well as upkeep of the trail, which sees more than 300,000 visitors each year, Rangers respond to emergencies and collaborate with Parks Canada when high-angle helicopter rescues from Mount Robson and its surrounding peaks are required.
The province has said that emergency response capabilities will not be affected.
Valemount's Adventure Management has operated the visitor centre at Mount Robson Park on behalf of Destination BC since 1990. Their current contract is due to expire in March. Owner Wendy Dyson said the expanded suite of services which the province wants to contract out to facility operators will likely be out of her company's scope.
"Our area of expertise is managing visitor centres," she said. "Managing campgrounds is not."
BC Parks stated that Park Rangers will continue to have a presence on the trail.
"The Ministry of Environment is accepting proposals to maintain the first 15km of the Berg Lake Trail to see if there is a cost benefit to the province," a spokesperson said.
This article first appeared in the Jasper Local newspaper. Find it online at www.thejasperlocal.com