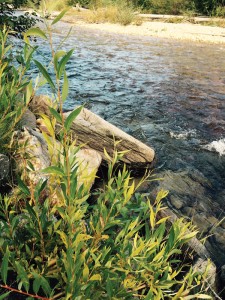 By Korie Marshall
If you are wondering about the willows recently planted along Swift Creek in George Hicks Park, they are there for a reason, and deterring people from walking there is a big part of it.
The regional park is a popular stop for tourists during salmon spawning season, through August and early September, offering a great spot for viewing the Chinook salmon and watching them dig their redds in the gravel in front of the new viewing platform. The platform was recently installed specifically to give people a better view, while also preventing people and their pets from disturbing the salmon, which need all of their remaining energy to spawn successfully before they die. Even people's shadows can scare them off their nests, using up valuable energy reserves – the salmon have not eaten in over three months, since they left the Pacific Ocean.
Visitors and residents alike used to walk further west along the bank of Swift Creek, and that foot traffic, as well as recent high water events, have weakened the bank which can collapse and bury existing redds and young fish, or cover up suitable sites for redds. The Regional District, the Village of Valemount and other land owners along the creek have been working with the Swift Creek Watershed Society and Wallis Environmental over the past couple years to rehabilitate and secure banks along Swift Creek, and provide better spawning habitat. Renee McCloskey, spokesperson for the Regional District of Fraser Fort George, says the new trees in the park have been planted specifically to discourage people from walking there and damaging the bank, as well as disturbing the salmon.
Willow is often used along banks and in wet areas because it roots easily, so cuttings can be inserted in the ground with minimal disruption to the existing soil. Mike Wallis of Wallis Environmental says the species of willow he is using is Pacific willow, which already grows around town in various yards along the creek, and is common throughout British Columbia except in high elevations.
"It is a naturalized species that we plant as a base layer at many restoration sites," says Wallis. "It grows to shrub and tree size, is deciduous (sheds its leaves) and provides good root structure, shading, leaf litter and insect drop to the adjacent stream."
Wallis says it is considered a good species for regeneration purposes in riparian areas because it does not out-compete native species in the area, like weeping willow would, for example.
In early July, Members of Parliament Cathy McLeod (Kamloops-Thompson-Cariboo) and Bob Zimmer (Prince George-Peace River) were in Valemount to announce an additional $436,000 in funding to continue the fish habitat restoration program for Swift Creek. The announcement was made on behalf of Gail Shea, Minister of Fisheries and Oceans, and the new funding comes from the federal Recreational Fisheries Conservation Partnerships Program. Wallis says work will continue this fall addressing some of the 17-18 in-stream sites they've identified in the original watershed plan. The sites needed to be reassessed as some of the work done along the banks has already improved the in-stream habitat for salmon.
The Chinook salmon are mostly finished spawning for the year, but keep an eye out in Swift Creek for sockeye, as they've been spotted in Swift Creek for the last two years.