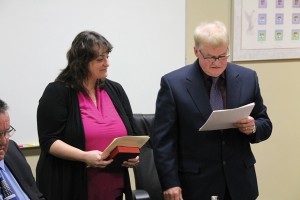 By: Frank Green
The by-election to fill a seat on McBride's village council is getting rescheduled, and won't happen until mid-September.
That's because of a bureaucratic mix-up, which critics of the village office see as evidence of incompetence. Local officials counter that it's a technical hiccup that happens all the time, and that the election could've gone forward anyway if not for the persnickety critics.
Elections have to be held no more than 80 days of the appointment of the elections officer. The village office mistakenly went by the date Enid Keir was sworn into the position, rather than when she was appointed, two weeks earlier. Eighty eight days would've passed, breaking the rule. And if someone were to sue to challenge the validity of the results, the election could have been thrown out. So Keir's appointment was retracted, and she'll likely be reappointed in the next few days to restart the timeline.
"Every municipality has done exactly what we've done," Keir said of the mistake; she's also the chief financial officer for the village. "It's a weak technicality."
But former-Mayor Mike Frazier assailed the village office, and said this sort of problem never happened during the nearly two-decades he was in office.
"The rules are there. And you hire people who are supposed to know the rules," he said.
An official with the the Ministry of Community, Sport, and Cultural Development, which regulates elections, said there was no data on how often local governments mess up the deadlines.
The debacle comes just weeks after a minor uproar over a typo on a local tax document, which led to testy exchanges on a village facebook group. Keir lamented that people with issues with village services don't come to the village to solve the issue.
The by-election was called after former councillor Bob Callaghan resigned in February.