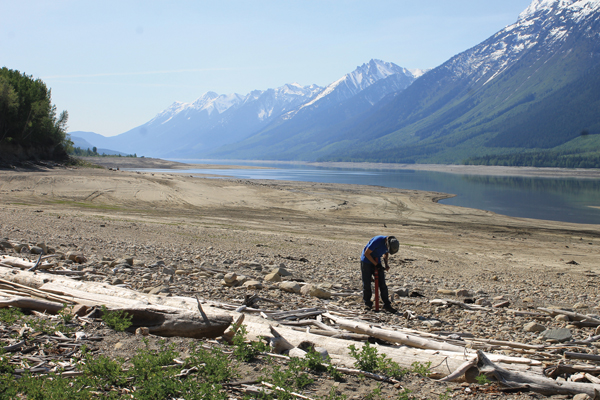 By: Korie Marshall
The Chinese government is interested in investing in foreign alternative energy, and a geothermal project in the Canoe Reach, just south of Valemount, might fit the bill.
"It's an exciting new opportunity," says Craig Dunn, though he admits he's stopped getting too excited about interim discussions, and this one is preliminary so far.
Dunn is the chief geologist and spokesperson for Borealis Geopower, the Calgary-based company that has been doing leading-edge science and non-invasive exploration of the Canoe Reach to try to determine the best place to drill in order to generate electricity using geothermal heat. The company has been approached by a Canadian branch of the China Overseas Investment Union (COIU) that is interested in investing in a geothermal power project in BC.
"Canoe Reach is the portfolio project they would probably begin investigating," says Dunn, and there is also potential for a project Borealis is working on in Terrace. Borealis has produced a short animated video explaining how geothermal heat can generate electricity, and it's been translated into Mandarin. Both videos are available on their website, at borealisgeopower.com.
Dunn says he couldn't make it to Beijing himself for a meeting with COIU on July 16th, but Borealis was represented by Cleanlight Ltd, a Canadian branch of the COIU.
"We have the support of the Canadian Embassy on this, so they can help facilitate some of those discussions and negotiations," said Dunn. He expects there will still be many questions to be answered before an investment decision is made, but he's expecting a two- to six-month time frame if the investment is going to go forward.
The Village of Valemount is also supporting the potential for Chinese investment in the project. Mayor Jeannette Townsend sent congratulations and a letter of support to the COIU on its efforts to enhance Canada's economic and commercial relationship with China.
"The renewable energy sector in Canada has some exciting opportunities," said Townsend in the letter. "Among those, Borealis Geopower's geothermal projects in Western Canada are particularly important for Valemount's energy future. Geothermal (or earth heat) energy is a clean, renewable source of both power and heat. It is proven technology that provides baseload (24 hours a day, 356 days a year) power, had low to no emissions and one of the smallest environmental footprints of any power supply. Geopower can be a practical energy solution for British Columbia and Western Canada."
Townsend says investment from China would be a benefit to both countries.
Dunn says Borealis is also looking at avenues for people in the Robson Valley to be able to invest in the project.
"We are just really excited about more and more people that are looking at geothermal as a viable option," says Dunn. He was also in Valemount in early July to meet with representatives of Valemount Glacier Destinations about the power needs for that project, and with MLA Shirley Bond and MP's Cathy McLeod and Bob Zimmer. Zimmer said many of his constituents in the Prince George-Peace River riding support BC Hydro's plans for the Site C Dam, but he sees the potential of geothermal electricity and is familiar with uses of geothermal heat from projects he's aware of in the prairies.
Dunn says Borealis has also had some opportunities to comment on some price analysis BC Hydro is doing on geothermal opportunities in the province.
"It's noteworthy that they are doing the work and are looking into these options," says Dunn. BC Hydro had previously classified geothermal power as "currently unavailable" in its 20-year plan to meet the province's demand for electricity.
But BC Hydro recently participated in a study that was just released last week by Kerr Wood Leidal and GeothermEx. The study was commissioned in February by Geoscience BC, and looks specifically at nine locations in BC, including the Canoe Reach, assessing the economic viability of geothermal energy for electricity.
In a news release to accompany the study, Randy Reimann, Director of Resource Planning for BC Hydro says it offers "a good estimate of how low costs could be and the potential of the resource on what we believe are the most promising sites for geothermal development."
Dunn thinks the study's cost estimates for Canoe Reach are as much as twice what his actual costs would be. "But that is the advantage of being an individual project manager – I don't have to take the average, I can be very site specific, and cost it accordingly," says Dunn. "At least they are studying it."