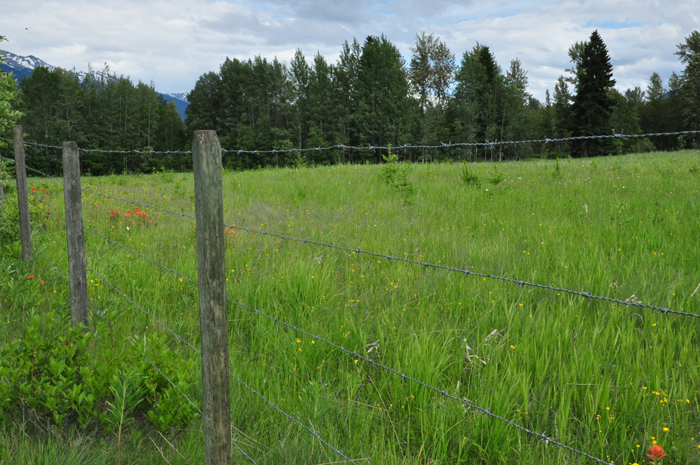 By Korie Marshall
Local governments in northern BC are paying more attention to their agricultural lands. Their efforts have been positive, says UNBC researcher David Connell, but if their aim is to protect farmland, there is clearly more local governments can do, especially in the Robson Valley.
Dr. Connell is an Associate Professor in the Ecosystem Science and Management program at the University of Northern BC. He's just released a study he's done to assess the strength of local legislative framework for protecting farmland in northern BC, like community plans, land use policies, agricultural plans and higher level plans like Land and Resource Management Plans, as well as the political context in which planning and decisions are made. He's assessed the framework using four principles as criteria: maximizing stability, integrating public priorities across jurisdictions, minimizing uncertainty, and accommodating flexibility.
The study looked at five case study areas, one in each of five Regional Districts, including the Robson Valley-Canoe Downstream area. That is part of Area H, from Dome Creek, through McBride and Dunster to Small River and Spittal Creek.
Overall, the study found the strength of agricultural land use planning and farmland protection in the "moderate", but there are significant differences among and within the Regional Districts. The framework was strongest for 150 Mile House area (in the Cariboo Regional District), followed by Smithers-Telkwa Rural Area (Bulkley-Nechako) and South Peach Fringe Area (Peace River). The Robson Valley-Canoe Downstream area wasn't the weakest of the five; the Greater Terrace Area (Kitimat-Stikine) was. But recommendations from an agricultural plan are currently being implemented, which Connell expects will strengthen the Greater Terrace Area's framework. The most recent official community plan for the Robson Valley-Canoe Downstream area is from 2001. Dannielle Alan, Area H Director for Fraser-Fort George, says the Regional District is in the process of reviewing the OCP of each area within the district, starting with the oldest. That means three community plans, from as long ago as 1988 for Area E, are ahead of the Robson Valley OCPs in the queue.
Responsibility of local governments
"An important question to ask," says Connell, "is whether the policies should be stronger." It depends on one's view, he explained. "If your aim is to protect farmland then the answer is clearly yes, there is more that local governments can do to make the local policies stronger."
Land use planning for agriculture is often seen as the sole responsibility of the Agricultural Land Commission, which has a mandate to protect farmland. But Connell argues that the strongest policies integrate public priorities across jurisdictions, connecting local interest in protecting farmland with local and provincial policy.
"Making these connections is the responsibility of local governments," says Connell. And he says a high level of integration is particularly important for agricultural lands because they are subject to so many competing interests. In the north, there is not only pressure from urban development but also from natural resource developments, including oil and gas activity and hydroelectric projects in the northeast.
And a new threat is rising – planting trees on agricultural land is a new source of pressure in the central interior of BC, Connell says. Foreign ownership of land is not mentioned as an issue in any of the Regional Districts' legislative documents, but parts of the region have experienced corporations purchasing productive farmland and planting trees for carbon credits. He says some work is being done to assess the extent it is having on agricultural potential.
Connell says he doesn't know if it is taking place in the Robson Valley, but to some farmers in the region it is a very big issue. Exactly how big of an issue it is comes down to how serious you are about protecting farmland, he says. But he thinks that the current practice needs to be addressed, or it will get out of control quickly.
Changes to the ALC
A number of changes were made to the province's Agricultural Land Commission Act last year, including the division of the province into two zones. Zone 2 covers 90 per cent of the Agricultural Land Reserve, including the Interior, Kootenay and North regions. In Zone 2, the priorities have expanded to include economic, cultural, and social values and other planning objectives which will increase the pressure on the agricultural land base.
Connell says his results show there is already a lot of flexibility within the system for agricultural land use planning. But for jurisdictions that do not have strong legislation, "the new rules under Zone 2 add to the level of uncertainty, which will likely make it more challenging to protect farmland."
The new regulations have not been released yet but are expected soon.
Common concerns
Connell says several issues emerged as common concerns across the study area: small-lot agriculture and fragmentation of farmland; alienation foreign ownership of farmland; and pressure from natural resource developments.
He says the combined issue of small-lot agriculture and fragmentation of the land base centres on what appears to be a growing awareness of food sovereignty. "Much of this interest in small-lot agriculture is associated with new farmers and their need for affordable land that is reasonably close to population centres." Though he says the issue is not significant across the region as a whole, each Regional District is addressing it through different means.
Alienation of farmland – either by planting trees for carbon credits or by building large estates and either not farming or farming only enough to meet the minimum levels for tax assessments and farm status – poses a threat to the agricultural land base, says Connell. And the legislative framework for integrating agricultural land use planning with natural resource developments is "significantly under-developed."
Some good stuff
Planning for agriculture and farmland protection has improved substantially over the past eight years, says Connell. The mountain pine beetle epidemic appears to be an important catalyst, with economic development plans being developed by the Cariboo-Chilcotin and Omineca Beetle Action Coalitions. Agricultural land use planning efforts soon followed. There are some important strengths as well as weaknesses, and the outlook is positive, he says. It is an on-going issue of public interest in northern BC, and several initiatives currently being developed should lead to stronger legislative frameworks for farmland protection.
The study was released last week (May 25th) and is part of a broader national project to identify principles and beneficial practices that protect farmland. Results of the study are available on-line at http://blogs.unbc.ca/agplanning/northern-bc-project/.
Connell says his first aim in doing the study is to provide information. But if people and local governments are serious about protecting farmland, he's willing to share what he knows about strengthening policies to protect farmland.
Alan says she and many others around the Fraser-Fort George board table are very concerned about the use of farm land for non-food purposes. "Food security and protection of our agricultural lands are key issues in the Regional District." She says the board is attending a briefing on the state of agriculture in the Regional District on June 17th.
"Support for agriculture, rural seniors, schools and health are all areas that I am passionate about and I am always seeking out opportunities to be involved and to make a difference," says Alan.