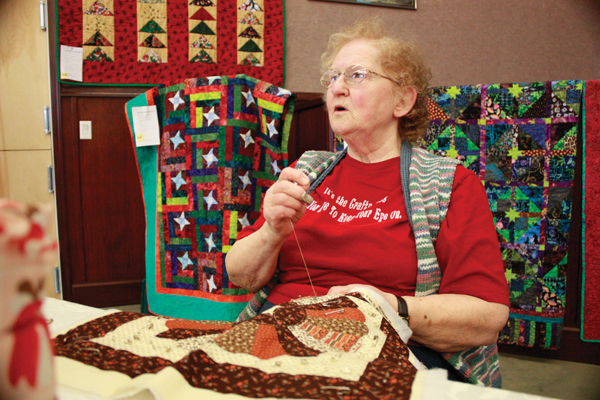 By: Frank Green
McBride's biennial quilt show happened in the Evangelical Free Church in a scant five hours during the day on Saturday. There were dozens of pieces from local quilters featuring everything from crows to Christmas. The room exploded with color—and geometry, but don't mention that.
"I was rotten at math in high school so I'm ignoring that there's math in my quilting," said Debbie Alexander. "I'm an artist, not a mathematician."
Despite the artistry, the art were never meant to hang on white walls, the quilters explained. They're for people, not museums.
"The more it gets used the happier we are," said quilter Barb Brabant. "There's nothing better than when it's just out of the dryer."
Still, the quilts are a huge investment of time, and money. For some, quilting is almost an addiction.
"Well, a little bit," allowed Joyce Godfrey. "There's always another pattern that you've got to have," she added. "It can get right out of hand."
The show drew people young and old, including 13-year-old Sydney Rohatynchuk, who said she's been quilting since she was nine.
"I like that I can stay in when it's cold and do something," Rohatynchuk said. "It's enjoyable."