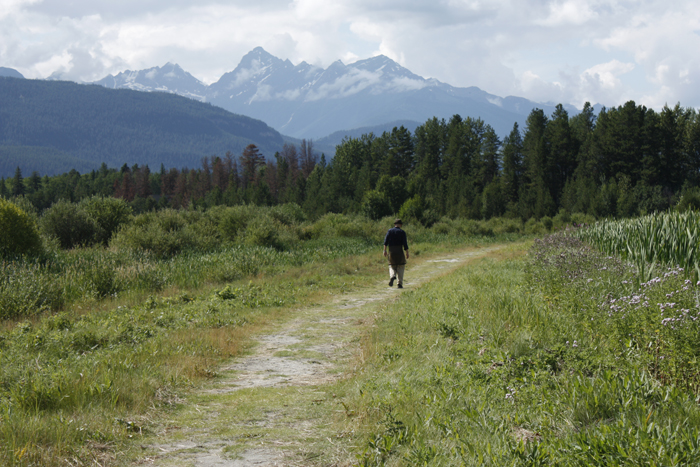 By: Korie Marshall
A management plan for the Cranberry Marsh Wildlife Management Area is not finalized yet, but Tim Clermont, Program Coordinator for the Nature Trust of BC, says it will exclude motorized traffic, camping, fires, and likely horses.
Clermont is writing the plan, and was in Valemount for a meeting with a small group of local residents and government officials on March 4th. He says he'll be submitting the plan to the Ministry of Forests, Lands and Natural Resource Operations within the next few weeks. When it is released, it will be available on the ministry's website (http://www.env.gov.bc.ca/fw/habitat/conservation-lands/wma/cranberry_marsh_starratt/) but Duncan McColl, Environmental Biologist with the Ministry, says he views it as a working document.
McColl hosted an open house in November, looking for feedback on how the community currently used the marsh, and whether or not motorized vehicles, horses, camping, campfires, etc, should be allowed in the sanctuary. The marsh has been a sanctuary since 1972, and the original property was donated with conservation in mind, he told the group. The Cranberry Marsh/Starratt Wildlife Sanctuary now includes 319 hectares of Crown, Nature Trust-owned, and privately donated land, and the ministry's primary concern for the property is conservation of wildlife habitat. It was designated a wildlife management area by the ministry in March 2013.
The idea of a corridor to allow motorized traffic like motor bikes and ATV's access to areas south of the village was a hot topic at the meeting in November, but McColl pointed out that allowing motorized traffic would be like entrapment, since you are not legally allowed to ride a motorized vehicle at either end of the corridor. Also, improved accessibility for mobility-impaired people will be a goal for the Ministry and Nature Trust, and allowing motorized vehicles can be detrimental to that access.
Other reasons to exclude motorized vehicles include noise – McColl says there is a protected bird in the marsh that is very sensitive to noise – and the maintenance requirements for trails would be much higher, and much more intensive and disruptive of the natural environment. Horses will also likely be excluded said Clermont, because of maintenance issues, especially because of the damage their hoofs can do to the geocloth under some of the more natural trail sections. Camping and campfires will be excluded, dogs will be required to be on a leash, and there will likely be some canoe closures during nesting periods.
McColl says the Ministry is looking for a formal agreement with volunteer associations to help guide priorities and coordinate grant applications, and to help guide plans for education and signage.
Wayne Van Velzen says he no longer has a work involvement with the marsh (he's worked with BC Parks for 41 years), but as a resident of the area for 31 years, he uses the marsh on a regular basis. He says now would be a perfect time to start moving ahead with plans to have the small area between the west edge of the Wildlife Management Area and McKirdy Road, currently Crown land, turned into a regional park. The site, an old reclaimed dump site, is listed in the Regional District's 10-year plan for regional parks as a potential future park, which says the Yellowhead Outdoor Recreation Association and the Valemount Chamber of Commerce approached the Regional District with the idea prior to 2009 (when the Regional Parks Plan was drawn up). Dannielle Alan, Director for Area H, said a project like that is definitely achievable if there are a few dedicated individuals to lead it. It would likely require a formal proposal to be submitted to the board, and then an application for a Crown grant or long-term lease for the property.