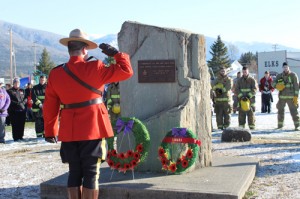 Submitted by McBride Legion Branch #75
The McBride Royal Canadian Legion Branch #75 has no hours of operation. We do however rent the hall for small functions. The Contact persons are Dennis Rejman at 250 569 2692 and Brad Kope at 250 569 8800 or Work 250 569 3784.
We have Legion Meeting on the first Tuesday of each month (except July and August). Meetings start at 7:00 pm.
We also have Bingo on the First, Third and Fifth Wednesday of each month except July and August. Early Bird starts at 630 p.m.
The McBride Branch has donated $2,250 to the Royal Canadian Legion BC/Yukon "Vet Service Dog Program and $541.00 to the McBride District Hospital for a TV to be used by the Extended Care Residents. This money came from the local Poppy Fund.