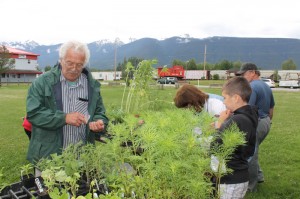 By: Korie Marshall
On Sept. 9th, Robson Valley residents met again in Dunster to discuss land use issues, and how valley residents can help shape our own future.
One issue generally agreed upon is that regardless of who buys it, a house is left empty is one more house that can't be used by families who want to live in the area. Another is that residents want sustainable growth – slow, steady growth – which means families will need homes to live in. That means property needs to be affordable.
Marion Cousineau, acting chair of the Dunster Community Association after Lelani Aris stepped down, chaired this third meeting on land use issues. The DCA is spearheading these conversations, but Pete Amyoony says he'd like people to understand it is not just about Dunster, it is about the entire Robson Valley. Cousineau said she wanted to have some action planned by the end of the meeting.
Telling the Regional District and local governments that "we want a voice in agricultural land use planning; we want a say" was the first suggestion from Dannielle Alan. Pete Amyoony agreed, and volunteered to get a hold of Lara Beckett, a Director with the Regional District of Fraser-Fort George, who is heading a new regional committee to review agricultural land use and planning. That is one of the three avenues suggested at the last meeting by David Connell from UNBC. Amyoony wants to invite Beckett to the community to participate in the next meeting.
"We have to reiterate that a Prince George solution does not necessarily work for the Robson Valley," said Alan. Amyoony says that's a good reason to have Beckett come here. He'd like to see this region get some of the first input into the Regional District's new plan.
"I think the way of the future is we've got to start looking at these small garden ideas," Chuck McNaughton said. He said there are only three large scale farmers in the valley, and he doesn't foresee any more coming on board – we have to start making room for small scale farmers. He thinks we should push for subdivision of farm lots, because smaller scale farming can be a living for at least part of the year.
Tim Haus says people want to come away from the cities, and start small, sustainable farms, like Gary and Wendy Lowe – they make it happen on a small scale, and have potential to expand sustainably.
Alan says another reason to work towards smaller lots is people who buy large tracts of land are not going to be interested in smaller lots. The people who can afford to buy smaller lots will come here with their families, which helps the communities.
Johnny Gideon thinks it is time to go back to small scale community farming and the initiatives the feed and sustain us locally.
"Buy from each other, because that is what has gone wrong in the big picture – one major fuel war or international disaster and there is no more fuel for the tractors. Where is the food going to come from?" asks Gideon. "It'll come from small scale farms that are supplying local communities."
McNaughton says agriculture is not his most important worry – the fact that families can't get the land is. "Let's look at smaller parcels for market farmers, let's have some residential lots that are 2 or 4 acres." His other suggestion is some sort of co-operative, where a group of families buys a piece of land that they all use. Chris Layton says that would have to be controlled in some way, like strata planning.
"As soon as you put a bunch of parcels on the market, the guys coming through here sledding are going to look at it and say – $50,000? Pocket money to us," says Layton.
Gideon thinks there must be a way to ensure people buying property are going to use it for farming, but Loretta Simpson thinks that is not a good path for this group. She says that is a provincial issue, and there would be too much opposition because of the expectation that when you buy a piece of property, you should be able to do what you want with it.
The group of 12 people, much smaller than the last meeting, discussed different versions of strata or group housing, as well as ideas about sustainable economic and community growth, small scale opportunities to process the food we grow here, and becoming self-sufficient like the newly formed Robson Valley Seed Savers group hopes to be.
Another option again discussed was updating the Official Community Plan, which is another option suggested by Connell at the last meeting. The OCP for the area hasn't been updated since 2002. Amyoony agrees that should be done, but he thinks it is important to look at what the community wants first. He's been on the Regional District Board before, and he has seen past meetings where only two residents show up. He says we can't just demand the Regional District update the plan, we need to prepare our concerns and suggest updates and changes we want in the plan – and that is up to the public here in the Valley, says Amyoony.
"We need to remember that the "land barons" are putting their two-cents worth to the Regional District all the time." Amyoony says he had more calls and visits from real estate people and land developers than any other people in the area.
No firm date was set for the next land use meeting, as the group was hoping to accommodate Lara Beckett to discuss an agricultural plan for the region.