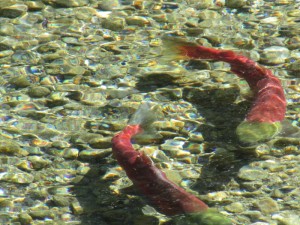 By: Korie Marshall
There are more sockeye salmon in Swift Creek than were spotted last year – and the ones seen last year were the first recorded since the mid-1980's.
"It is exciting to think that a new, albeit small, sockeye population is taking hold in Swift Creek," says Chris Pharness, a biologist who has been working with the Lheidli T'enneh First Nation doing the Chinook counts in the Robson area.
"Absolutely the young from these fish could survive," said Pharnes when asked if the sockeye – normally lakeheaded fish – could survive in Swift Creek. "In fact, the fish that are returning may be the result of successful spawning that occurred four years ago."
However Bruce Wilkinson, local salmon guru, was concerned that he only saw female sockeyes when he had a look late last week. Tina Donald, a Councillor for the Simpcw First Nation who brings coho salmon from the Dunn Creek Hatchery to the elementary schools each year says that may not be a bad sign, as male salmon will often arrive later than the females.
Last year sockeye were spotted near the Senior's Centre in Valemount, just down from the Village's water intake. Lester Jantz from the Department of Fisheries and Oceans told the Goat there is no regular stock assessment program for the sockeye in Swift Creek and the Tete Jaune area because they've been seen so rarely. He did have records of fisheries officers who'd seen them in the min 1980's in Swift Creek, and they are occasionally spotted in Tete Jaune, while Chinook salmon are counted.
Jantz told the Goat last year that sometimes a few individuals will stray into a system you've never seen them before. Or it could be there is a very small population of sockeye that regularly spawn in the area, and they are just not often seen, he said.
Jantz confirmed the photos taken on Sept. 15th and 16th this year are again sockeye, and at least 19 were visible at once from the banks of Swift Creek, opposite the Seniors Center on Tuesday afternoon. Tourists and locals both stopped to have a look.
Chinook salmon usually have deep red, blue, green and purple colors by the time they reach the Swift Creek spawning areas. They are much larger than the sockeye, and are seen in the Fraser and its tributaries earlier in the season than the bright green-faced, red-bodied sockeye. The Chinook are generally finished spawning in Swift Creek and the upper Fraser by early September.
Pharnes told the Goat last year that sockeye are "lakeheaded" fish, meaning they normally spawn in a lake system at the top of a river or creek. He said juveniles will spend about a year in the lake before heading out to sea. He supposed sometimes fish get disoriented or maybe just wander past where they were born.
"It's kind of a natural thing in the salmon population because it keeps the genetics healthy, and if there is habitat that hasn't been used or found yet… that is how they got there in the first place, by wandering," says Pharness.
Last year they were spotted for at least a week, towards the end of September. Jantz said the residency period for salmon varies between species and years, but they will often hold in a lake or deeper area of a river system until it is almost time to spawn. Then they will "zip" into the creeks, lay their eggs, and be finished within a few days. They do this to protect themselves from predation from bears, eagles, wolves and coyotes, because they are very vulnerable in the shallow waters they spawn in. Last year, he said there was not enough observation of the Sockeye in Swift Creek to guess how long they might stay around. This year, they are here earlier – or maybe they've just been recognized earlier.
There is no concern of competition between the Sockeye and Chinook, because they have different life cycles, different diets, and different preferences for spawning sites. Jantz said that Chinook normally prefer larger, three to five inch cobble-type gravel. Sockeye, being smaller, prefer smaller gravel and sandy particles, because they need to be able to move the substrate around to dig their redd (nest).
People should not disturb the fish while they are in the creek, but Jantz said there is certainly no problem with watching them and taking pictures. Once the adult fish are gone, things like vehicles driving through the creeks can definitely crush the eggs in the gravel, which can take months to hatch, but kids swimming and dogs running into the water after the adults are gone would not be a concern.
Do you remember seeing sockeye salmon in Swift Creek before last year? Tell us! [email protected] or 250-566-4606.