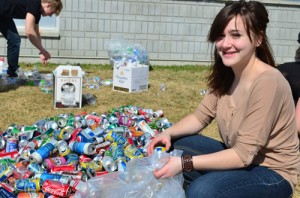 By: Korie Marshall
One question the Regional District will be taking to provincial meetings this week is getting better access to recycling services for smaller communities.
The Regional District of Fraser-Fort George is calling for changes to the province's recycling regulations. Stewardship plans are approved by the Ministry of Environment, and currently, most stewardship programs commit to recover 75 per cent of the products the producers sell.
"We'd like to see the Recycling Regulation changed to ensure product stewards provide collection services in all communities where fees are collected," says Art Kaehn, chair of the Regional District of Fraser-Fort George, in news release. "If residents are paying into a collection program, they should have reasonable access to services," he says.
The Regional District recently did a review of 14 different stewardship categories to see how well communities in the district were being served. All 14 programs serviced Prince George, but many left McBride, Valemount and Mackenzie "without reasonable collection access," says Kaehn.
Only four or five of the 14 stewardship programs service these small communities. Used oil, tires, beverage containers and medication can be recycled in all three communities, but stewardship programs for smoke alarms, thermostats, lighting, small appliances, printed paper and packaging, and outdoor power equipment do not service any of them. Electronics are only recycled in Valemount; paint cannot be recycled in McBride; batteries can't be recycled in MacKenzie; and cell phones can't be recycled in Valemount.
Kaehn said it is not just an issue for this district, or even just for northern communities, but is a rural issue all over the province.
"That is why the resolution is in the A section of resolutions we are going to consider in Whistler next week – it has a broad provincial appeal," Kaehn told the Goat over the phone. "You talk to people in the Kootenays, and elsewhere, they are all having the same challenges. Certain stewardship programs are just not happening, or they don't happen very often."
The news release says the Regional District wants to bring attention to the fact many stewardship programs are not providing a full range of collection services to residents who live in smaller, rural communities. This, despite the fact that fees to support these programs are collected province-wide, either as part of the retail price of the product, or an additional fee or levy added at the point of purchase.
The Regional District has submitted a resolution asking that the provincial regulation require product stewardship programs to provide collection services in any community where consumers are charged stewardship fees. The resolution notes that currently the producers can meet their 75 per cent recovery rate by providing service to denser and more populated regions, and they consequently avoid providing service to rural and small communities.
The Regional District's resolution is supported by the North Central Local Government Association and is recommended for endorsement at the Union of BC Municipalities meeting, says the news release. The UBCM meets September 22-26 in Whistler.