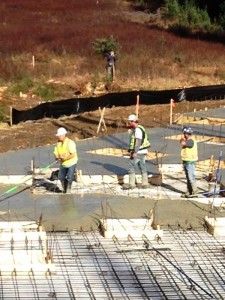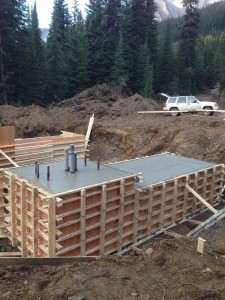 By: Korie Marshall
Photos submitted by Carrie Sherrer
Footings were poured on Oct. 8th for a lift terminal at Jumbo Glacier Resort, while another company was pouring the hotel slab and drilling a well, says a Valemount resident who submitted the photos at right.
A story on Desmog Canads'a website says the environmental assessment certificate for the Jumbo project expires on Oct. 12th, 2014, and cannot be renewed a second time. Reporter Judith Lavoie says it was granted in 2004, renewed once in 2009. The article says for the certificate to become permanent, the company must show BC's Environmental Assessment Office that substantial work has been completed.
The project has been in the works for almost 25 years, and is currently advertised as a unique sightseeing destination and the only year-round ski resort in North America. The proponent of the project, Pheidias Project Management, is also the proponent of Valemount Glacier Destinations, which is also planned to be a unique sightseeing destination and year-round ski resort this one in the Premier Range, west of Valemount.
The Master Development Agreement with the province for Jumbo was signed in 2012, but support for the project has been divided, with environmental groups and First Nations opposing the project. In November 2012, the province announced the creation of the Jumbo Glacier Mountain Resort Municipality, later appointing a Mayor and Council for a municipality with no residents.