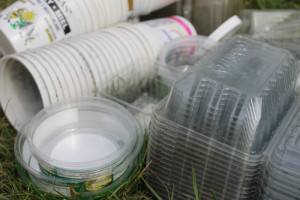 By: Korie Marshall
Valemount and McBride may not be served by blue box recycling collection from Multi-materials BC yet, but starting October 1, residents will be able to recycle more materials at local transfer stations, including plastics.
The Regional District of Fraser-Fort George's newsletter, released last week, says the current recycling program in place at its transfer stations has been in place for 20 years, and only accepted mixed paper, milk jugs, cardboard and metal food cans. But the Regional District is expanding the program to include more materials, including residential plastics numbered 1-7.
The newsletter said the expanded list of products will be accepted at transfer stations and depots in Prince George, but Renee McCloskey, spokesperson for the District said there was an omission in the article. She confirmed the expanded program will be available in the member municipalities like Mackenzie, McBride and Valemount at the existing locations.
Staci McNee, a Valemount resident who recently moved from Alberta, says she is really excited about the news. She said it bothers her to throw recyclable materials in the garbage, and she's been collecting recycling and sending it back to Alberta or other areas with friends and relatives whenever she can. She even makes special trips to recycling depots whenever she goes to the city.
"It frustrates me a little that people throw out things like laundry soap jugs just because there is no way of recycling them here in Valemount," says McNee.
The Regional District will also be introducing recycling at some rural transfer stations for the first time, such as Bear Lake, Buckhorn, Chief Lake, Hixon, West Lake and Willow River transfer stations.
New provincial regulations for recycling of packaging and printed paper came into effect on May 19, 2014. The regulation is meant to shift the cost of disposal of things like plastic film wrap, foam packaging, aluminum foil and paper, to the producers. One of the goals of the regulation is that the cost of disposal of the waste should provide incentive to produce less waste.
Multi-Material BC, an industry-led and industry-financed organization set up to manage the stewardship of these materials, will be providing blue box collection services to single family residents in Prince George starting on September 1st. However the provincial regulation does not require MMBC to provide service to small communities like Valemount, McBride and Mackenzie, or any of the rural areas within the district. Those three municipalities and the Regional District declined offers last fall from MMBC to provide recycling and blue-box collection services on MMBC's behalf, citing concerns about meeting the low contamination rate and excessive penalties in the contracts.
"There is no way we'll be able to provide service across the province in our first year, and I don't think we ever thought we would," Allen Langdon, managing director of MMBC, told the Goat in April. "I think the goal was to establish a base line of service in the first year, and then look to expand that in year two."
That left the Regional District with a decision in May about whether to continue recycling service. Some Directors expressed concerns about the cost of continuing to provide a service that municipal governments are no longer responsible for, and residents having to "pay twice" – once when they buy the product and once to recycle it.
The Board eventually agreed to extend the current recycling services outside of the city at least into 2015, but the extension will only be funded as a region-wide service until December 31, 2014. After that, it will be a sub-regional service, with the City of Prince George not be paying into the service, McClosky said in May.
Neither the curbside collection nor the multi-material bins are set up to take glass, so residents will continue taking glass recycling to bottle depots where available.
The Regional District's news letter says to stay tuned to their website, www.rdffg.bc.ca, for more information.