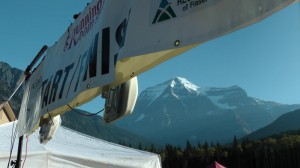 By: Laura Keil
Getting into the right mindset to run a marathon is a trick in itself. Imagine then, after finishing a gruelling ascent and reaching the flats leading to Berg Lake, deep reverberations pulsing along the valley – a surreal, perhaps spiritual calling.
Someone at Berg Lake was playing an alpenhorn, and the result according to some racers was surreal. Marathon organizer Jean-Ann Berkenpas was not sure who had the horns, and the Goat was not able to verify who was playing them by press time.
All the racers – marathon, half marathon racers and 5km racers were blessed with a blue bird day, in the mid-twenties for temperature and the path was dry.
The best time for the marathon was 3 hours and 32 minutes.
We got so many great photos this year from the course!
For race results visit sportstats.ca.